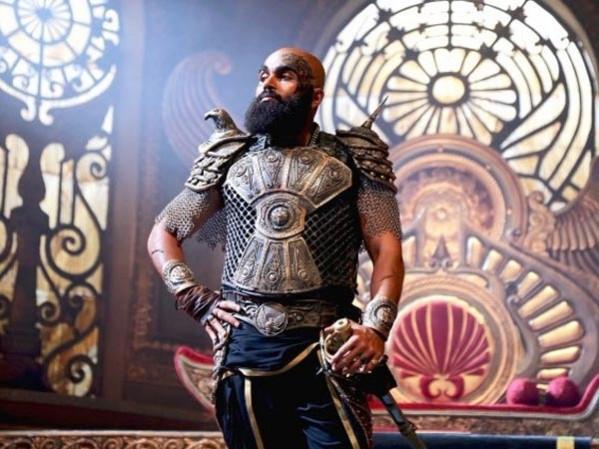 Cast: Karthi, Nayanthara, Sri Divya
Direction: Gokul
Rating: 2.75/5
Tamil filmmakers always try to push the envelope and experiment in their films. And Kaashmora is one such film. Set in both the present time and 500 years ago, Kaashmora is a film which tries to blend both successfully.
Gokul's film starts off in the past and then we are introduced to Kaashmora. Karthi plays Kaashmora, a con who makes people believe that he can do magic, talk to spirits and achieve the impossible. His whole family is involved in this business and they have been getting away with it easily.
Meanwhile, Sri Divya who is doing her doctorate, wants to prove that he is a fraud. She comes to request him to allow her to observe him so she can catch him at it. One day Kaashmora is asked to come to a house in Andhra Pradesh and here he discovers that there is indeed a world of spirits.
Kaashmora is taken to the past where we discover Raj Nayak, a warrior king, also played by Karthi. What is their connection? What does Nayanthara have to do with the king? Does Sri Divya prove he is a fraud? Where does Kaashmora end up?
As an actor, Karthi is very talented and he is able to straddle the roles of the con man and the warrior king quite deftly. It's evident he has put in a lot of hard work for the role of Raj Nayak, a role that will be memorable for him. As Raj Nayak, it is his fights that will be noticed. As Kaashmora, his comic portions especially evoke a laugh as he has a good sense of what works for the audience.
Looking at the heroines, Nayanthara looks really pretty and is able to make an impact in the short time that she is in the film. The other heroine Sri Divya does not have too much to do in the film, though.
Director Gokul has made a good attempt with this film to give the audience something new. But the mix of comedy, horror, fantasy and period portion might just be a little confusing for them. With so many elements, the director has tried his best to fit in everything aptly. The first half of the film is a little slow and the story moves only in the second half. There is a sense of deja vu with the story and visuals as they seem to have been borrowed from Hollywood films.
For Kaashmora, it is music director Santhosh Narayanan who has scored for the film. It is his brand of music that we see here and it works well for this film. One must also make mention of the visuals in this film, especially in the second half, which is interesting.
Kaashmora has elements that kids and adults would enjoy. But don't look for romance. This movie is a Diwali pataas (cracker) that has its moments but doesn't cause a loud bang.