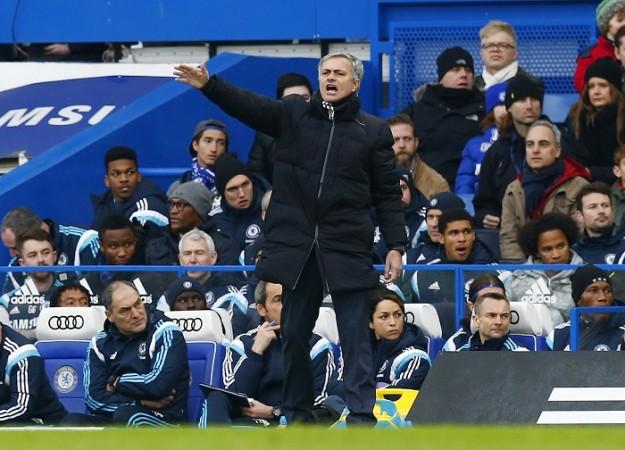 Chelsea manager Jose Mourinho insists that Arsenal are still in the title race despite the Gunners currently being seven points behind the Blues in the Premier League.
The Blues missed a very good chance to go eight points at the top of the Premier League, after their 1-1 home draw against Southampton on Sunday.
They are a little unfortunate as Diego Costa's opener was cancelled out by Dusan Tadic, who found the nets, following a controversial penalty decision.
Arsenal, on the other hand, have closed the gap between themselves and the second-placed Manchester City, who were defeated at Burnley this weekend, to only one point following a 3-0 win against West Ham on Saturday.
And Mourinho admits that Arsenal are still in the title race despite them still being a lot of points behind Chelsea.
"Of course [Arsenal are in contention in the title race]," Mourinho told the Independent. "[They are] seven points behind Chelsea, and one less match to play than Chelsea. I keep thinking our opposition is better than theirs ... both teams [City and Arsenal] are in the race."
When asked whether the Gunners had the greater "momentum", the former Porto boss replied: "Which momentum? Three-one against Monaco or 3-0 against West Ham? It depends on the momentum."
Reflecting on his own team's performances, the former Real Madrid boss feels that Chelsea are in a "much better" situation than they were at the start of the season.
"I keep saying our situation is much better than if it was the start of the season."
Still Mourinho admits that the Premier League title race is far from over.
"But it's not easy. Every match is difficult," added the Portuguese. "Remember our two matches against Southampton. In one game there was one penalty that is not a penalty; in another game, a penalty that was not given."
"So you are speaking about six points and getting two. So the danger is always there. But I keep saying, we are there."
Despite Chelsea's less than favourable performances of late, Mourinho insists that his side are not "being complacent."
"We are not complacent. It is something I cannot accuse my players of in every game, of being complacent. I'm not afraid of that."