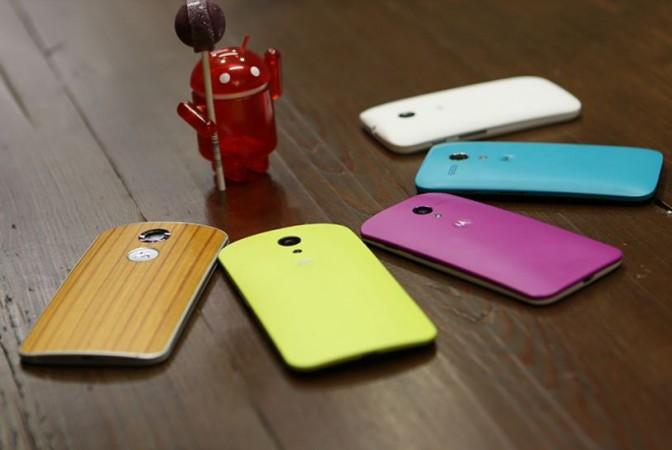 American software major Motorola Mobility has reportedly announced to release the latest Android 5.1 Lollipop to first generation Moto E, Moto X and Moto G (LTE) soon.
Last month, Motorola had begun Android 5.0.2 Lollipop soak test for Moto E (2014) and Moto X (2013) in select regions across the world; but later in the month, Google's mobile OS division Android released MR1 (Maintenance Release) to Nexus devices to fix some glaring bugs found in previous software versions (v5.0, v5.0.1 & v5.0.2). So, Motorola has decided to stall the current v5.0.2 preview testing and start over the process to the aforementioned devices.
"As some of you might know, we've been testing Lollipop 5.0.2 upgrades on Moto X (1st Gen), Moto E (1st Gen) and Moto G with 4G LTE (1st Gen) in several regions. In parallel we have started testing Lollipop 5.1 which was recently released by Google. Given the improvements in Lollipop 5.1, we have decided to move all efforts to upgrade these devices directly from KitKat to Lollipop 5.1," said David Schuster (via Google+), Senior Director, SW Product Management, Motorola Mobility.
This is the right move taken by the company, as they will save time in testing v5.0.2, which is already known to contain some bugs.
Google's Android 5.0 Lollipop was released to Nexus devices in mid-November, but they were riddled with bugs; to fix the issue, the company rolled out two stability updates: 5.0.1 and 5.0.2.
This apparently forced a few Tier-1 brands like Samsung, HTC and Motorola to reschedule the software update release program to a month and finally release v5.0.2 update to their respective devices.
Still, there were reports of glitches present in the last (v5.0.2) update; this apparently forced the Google team to re-work on source codes and it has already begun deploying new major MR-1 (Maintenance Release) v5.1 Lollipop to Nexus and Android One devices.
[Read more: Motorola Set to Release Android 5.1 to Moto X (2014) Pure Edition Soon; Bug-Fix Change-log Details Revealed]
This new update is said to fix major bugs such as- Wi-Fi tethering issue, Bluetooth connectivity, CPU wake-locks - which result in heavy draining of battery, Chrome crash during crash, deletion of SMSs when SIM memory gets exhausted and many more.
[Read more: Android 5.1 Lollipop OTA Update Rolled out to Motorola Moto G XT1032 [How to Install]
In related development, Motorola has also begun rolling out the Android 5.1 Lollipop to the first generation Moto G GPe (Google Play edition) and will soon release the update to Moto X (2014) Pure Edition as well.