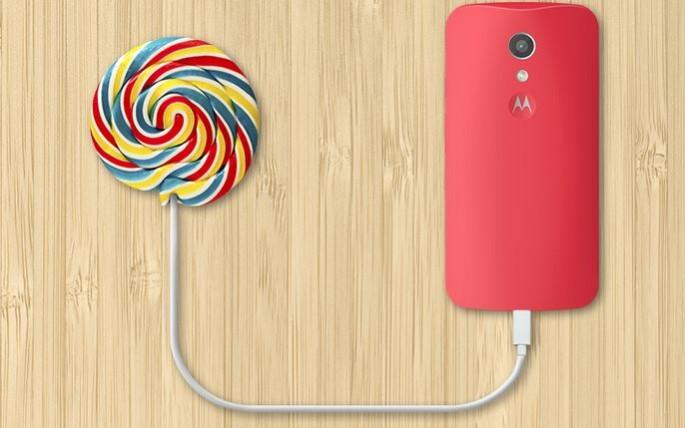 Motorola has reportedly begun releasing the latest Android 5.1 Lollipop update to Moto G GPe (Google Play edition) via OTA (Over-The-Air).
Technology blog Android Police confirmed the Moto G (XT1032) owners have begun the getting Android 5.1 Lollipop (build number: LMY47M) update notification.
The news comes just a week after Motorola announced to release the same update to its 2014 flagship smartphone Moto X (2nd Gen) Pure Edition model. It had published 'Release Notes', giving description on improvements, which will be reflected on the smartphone after upgrading to the new update.
The new firmware v5.1 is not a major update, but rather a bug-fixing software patch. We believe these very enhancements will be reflected on Moto G GPe as well.
[Read more: Motorola Set to Release Android 5.1 to Moto X (2014) Pure Edition Soon; Bug-Fix Change-log Details Revealed]
The new update will fix major bugs such as Wi-Fi tethering issue, Bluetooth connectivity, CPU wake-locks that result in heavy draining of battery, Chrome crash during deletion of SMSs when SIM memory gets exhausted and many more [scroll down for detailed description].
How to Install Android 5.1 Lollipop OTA on Motorola Moto G (XT1032):
If Moto G (XT1032) device series owners are getting the update notifications, then select - "Yes, I'm in" option >> then, after downloading, select >> "Install now." The phone will restart automatically and the OS will be updated to the new version.
Until then, users can also check manually on the smartphone by going to – 'Settings' >> 'About phone' >> 'System update' >> 'Check Now';
We like to remind out readers that the roll-out process is carried out in phases, so it will take some time to reach all corners of the country.
If you are impatient and want to install the update right away, then you are in for luck; Android Police have provided a link to download OTA file (LMY47M from LRX21Z), which can be flashed on the device manually.
We like remind our readers, that this procedure is very technical and should be performed by a person with sound knowledge of manual software installation of Android devices. If the installation process is not followed properly, there are chances of the device getting bricked or may even lead to the device being permanently irreparable. IBTimes India cannot be held responsible for any damage or claims from readers if the procedure does not yield the required results or if the devices get bricked. Hence, users are advised to proceed with caution or just wait for a day or two to install new software with very less effort via OTA.
Here is the complete list of improvements expected to come to your Motorola device after upgrading to Android 5.1 Lollipop.
Notifications & Interruptions
Usability improvements include:

Block interruptions until your next alarm. This choice will show only when you have an alarm set within the next 12 hours. It will prevent you from missing an alarm when you choose 'No interruptions'.
You can choose to enter a scheduled downtime early. For example, if you are going to bed early and change your notification settings, you can choose "Until your downtime ends". This option will be visible when within four hours of the scheduled start of your downtime.
Adds icons to the volume settings panel that match those that will show in the status bar (None, Priority).
You can now alter notification volume controls while media is playing. With the volume controls showing, a tap on the bell icon will bring up notification volume controls.

Heads-up
Notifications
In addition to dismissing a heads-up notification, you can now swipe it up to remove it from your screen. It will remain in your notifications tray and you can dismiss it later.
Quick Settings
You can quickly select different Wi-Fi access points or different paired Bluetooth devices with a new pull-down menu on each tile. Conditional settings tiles that only show if you use the feature - like "Invert Colors" or "Hotspot" - can now be hidden via a long-press on the tile.
Camera
Reduces noise in low-light shots and improves responsiveness of the viewfinder with the front-facing camera (selfie). [Only on Moto X 2014 device]
Device Protection
Lost or stolen devices will remain locked until you sign in with your Google account, even if reset to factory settings. Note that you must have a Google account on the device to automatically enable this feature and set a PIN, password or pattern screen lock.
Performance
Improvements in the Android Runtime (ART) lead to faster application launch times.
Lockscreen
If you have enabled Ambient Display, the minimum swipe distance has increased to reduce accidental interactions.
Bug Fixes
Issues fixed in this release include:

Clock in the status bar isn't updating and alarms are not going off
Can't delete SMS messages when the SIM card is full
No ringer audio while making an outgoing call
Calculator floating point calculations
Chrome crashes on launch
Frequent restarts while watching Netflix
Wi-Fi will not automatically reconnect to your home Wi-Fi
Wi-Fi not connecting after being idle all night
Wi-Fi connection issues with multiple routers in one location
Bluetooth discovery is not triggered when you refresh settings
CPU wakelocks that contribute to heavier battery drain
Connection and synchronisation issues with MS Exchange servers
Incorrect default APN
Can't unlock the SIM with a PIN/PUK code
Can't play 'pinned' content
General stability improvements