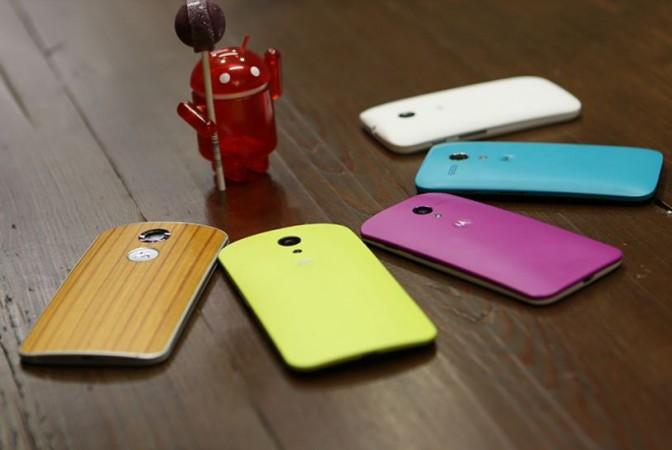 Motorola has reportedly pushed out the new Android 5.0.2 Lollipop update via OTA (Over-The-Air) to the company's budget smartphone Moto E in India.
The news comes almost two weeks after the Motorola officially began the soak test for Moto E in India and Brazil.
For the uninitiated, soak test is a process of previewing the software. It is conducted by releasing the firmware to select device owners registered to Motorola Owners forum. These people after using the phone with the new OS will give feedback to the company. Once it is ascertained that the software has no bugs or glitches, it will be rolled out en masse to the public.
[Read more: Motorola Moto E Set for Android 5.0 Lollipop; Soak Test Now Live in India]
It looks like Motorola found no major bugs in the OS, technology blog Android Advices has now confirmed that Moto E users in India have begun getting 5.0.2 Lollipop OTA update (build version: 22.21.32.en.03).
It is said to be around 342 in size, so owners are advised to free-up at least 500MB space in their phone's onboard storage by transferring files/apps to the SD card.
Android 5.0 Lollipop OS comes with a new design language – 'Material design'- bringing interactive user interface, lots of animation graphics, replacement of Dalvik with ART as its default runtime will bring improvement in performance and battery-life enhancements as well.
[Also read: Android 5.0 Lollipop: Top Key Features of New Google Mobile OS]
How to install Android 5.X Lollipop OTA update on the phone:
If Android One owners are getting the update notifications, then select - "Yes, I'm in" option >> then, after downloading, select >> "Install now." The phone will restart automatically and the OS will be updated to the new version.
If users are yet to get the update notification, they can check manually by going to:
Settings >> About phone >> System update.
[Note: We recommend our readers to download the update via Wi-Fi for smooth installation process.]
So far, the company has released new Android OS update to Moto G (Gen 1 and Gen 2) and Moto X (Gen 2), Moto E and is slated to roll out the new Google mobile OS to Moto X (Gen 1) soon.
Motorola has opened an official Android 5.0 Lollipop tracking webpage [HERE] to assist esteemed Motorola device owners to keep a tab on OS update release details.