Now that the Moto Z2 Play has broken covers, Motorola is busy laying the groundworks for the launch of its bigger and more powerful sibling Moto Z2. If the leaked benchmark results are to be believed, it is expected to boast Qualcomm's latest CPU.
Motorola's Moto Z2 has made its way to the Geekbench performance site and scored 1,879 and 6,503 points on single-core and multi-core tests, respectively.
Also read: OnePlus 3, 3T series get new Oxygen 4.1.5 (Android 7.1.1 Nougat); brings battery optimisations, fixes VoLTE issue and more
The description page offers a glimpse of device's key feature. It is powered by the Snapdragon 835 octa-core, Qualcomm's most powerful processor yet backed by Google's latest Android 7.1.1 Nougat and 4GB RAM.
Having said that, the device's moniker—Moto Z (2) seems to suggest it might be a prototype and the 4GB RAM capacity is kind of less compared to rival brands and there is a strong rumour that says upcoming OnePlus 5, which will be pitted against Moto Z, is expected to come with top-end PC grade 8GB RAM.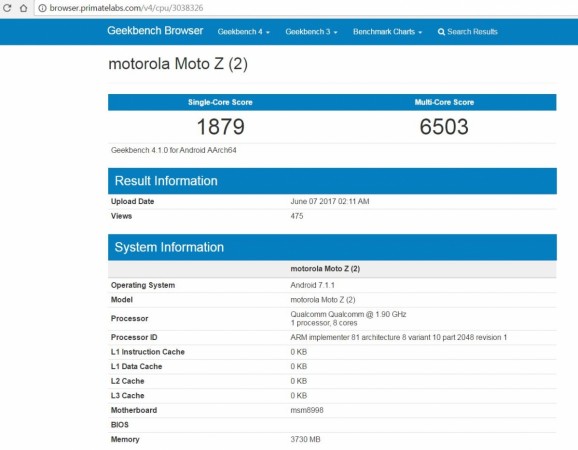 We believe Motorola will test other Moto Z2 prototypes with different RAM capacity and the device will make its way to the Geekbench soon.
Other expected features of Moto Z2 include dual-camera on the full-metallic back cover. On the front, it is expected to feature 5.5-inch Quad HD (2K: 2560x1440p) screen, 3,000+ mAh battery with Gigabit LTE capability, which allows users to enjoy 1gbps internet speed.
Read more: Moto Z (2017) makes an appearance at Sprint's Gigabit LTE event; key design language revealed
Watch this space for latest updates on Motorola products.