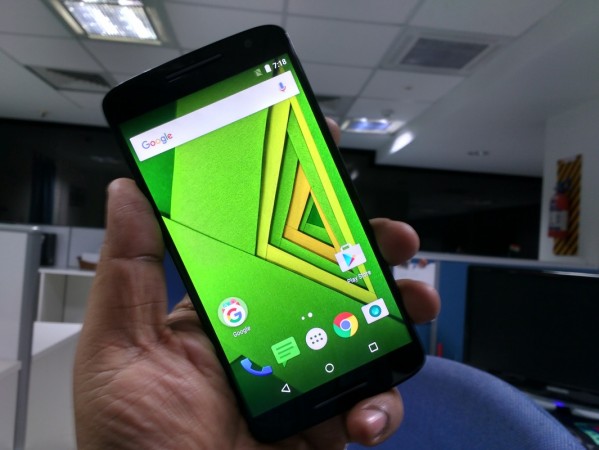 Motorola has launched two successors of its most popular smartphone series Moto X. Dubbed as Moto X Play and Moto X Style, the devices have different pros and cons.
Among the two, Moto X Play caters to the mid-budget consumers looking for a well performing device with decent camera and battery. X Play comes in two storage variants -- 16GB and 32GB. While both the phones offer identical memory expandability limit up to 128GB, the 16GB storage edition is available for Rs 18,499 and the 32GB storage version can be purchased for Rs 19,999. We have been using the 32GB edition for a month now and here is our final impression of the device.
Things we liked:
Though Moto X Play's 21MP primary sensor is almost identical to Moto Turbo, the autofocus is faster than the earlier one. The camera is as fast as Moto X's earlier edition, yet offers better images irrespective of lighting conditions. The clicked images come with aptly balanced colours with decent crispness, saturation and brightness. This camera is undoubtedly the best camera offered in a sub-Rs. 20,000 smartphone.
Moto X Play runs on the latest Android 5.1.1 operating system with a stock-like interface. Motorola has added a few nice features like asking you to activate handsfree by detecting while you're driving or ask you to turn on silent mode while you're supposed to sleep.
Moto X Play boasts a 3,630 mAh non-removable battery with fast charging ability. In the initial stage, the battery draining was quite frequent as the NFC and WiFi was by default turned on. Once we turned the NFC off and activated the WiFi when required, the battery life drastically changed. The device offers almost a day and a couple of hours of power. With minimal usage you can expect around a day and a half.
Moto X Play also flaunts a 5.5-inch, 1080 x 1920 pixels, 403 PPI display. The curved bezel on the display has surely added a premium look to the device. The display offers nicely balanced colours with crisp icons and texts. The brightness is ample, viewing angles are great and the Moto display feature offers the best of the experience any mid-budget phone can offer.
Things that can be upgraded
With a textured rubberised curvy rear panel, Moto X Play features a silvery metallic finished bezel that is made of plastic. The look of the device might feel a tad boring to the consumers looking for a stunning design like OnePlus 2 offers.
Under the hood, Moto X Play packs an octa-core Snapdragon 615 SoC backed with 2GB RAM. The Snapdragon 615 SoC is commonly visible in budget devices like Xiaomi Mi 4i. If you judge performance on the basis of benchmark scores, it is inferior than several processors commonly seen in mid-budget devices but in real life it is quite capable of handling most of the tasks without any chugs or stuttering experience. But for the price, the users might wish little powerful processor.
Our verdict
To be precise, Motorola has been able to hit the bull's eye by making Moto X Play. For its price, Moto X Play offers best camera experience, latest Android without any bloatware, decent display and a great battery life. The users looking for a better looking device can opt for OnePlus 2 or Moto X Style, which are available for a little higher price.