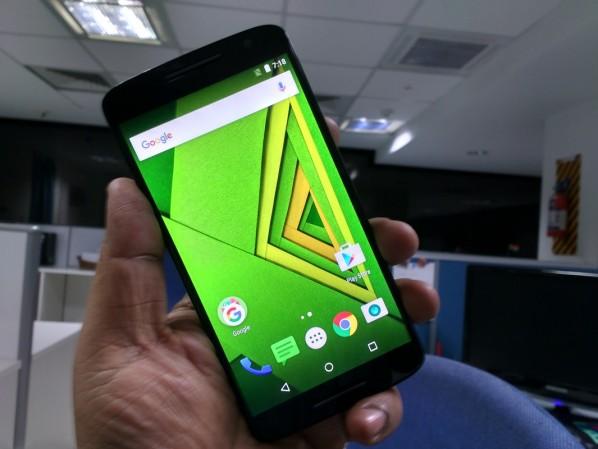 Among its plethora of smartphone devices, Moto X is counted as one of the most popular and widely available smartphone series from Motorola.
Iterating the success story of its predecessor, this year Motorola launched two variants of Moto X- Moto X Play and Moto X Style.
Recently, Motorola launched the latest affordable edition of Moto X, Moto X Play in India.
Available through its exclusive India seller, Flipkart, Moto X Play is available in two storage variants- 16GB and 32GB. While the 16GB built-in storage variant is available for Rs 18,499 the 32GB edition can be purchased for Rs 19,999.
We received the review unit of Moto X Play on Friday. Here is our first impression on the device.
Design and Built
Moto X Play comes in a funky white green combination paper box, inside which you will find the handset, USB cable, charger head, one in-ear earphone, SIM ejector and the hard copy manuals.
Unboxing the device, we found it a bit heavier than the usual smartphones with five-inch display. But for a 5.5-inch display smartphone, 169g shouldn't be considered heavy and especially when one of its direct competitor and most beautiful device of this year, OnePlus 2 weighs 175g. Moto X Play is almost similar in comparison with OnePlus 2's measurement (148 x 75 x 10.9 mm vs 151.8x74.9x9.9mm).
Moto X Play retains its iconic curvy back finish with a textured rubberised finish, which almost sticks to tables and hands and never slips off easily. The device also slips in easily inside tight trouser pockets.
Unlike other Moto devices, Moto X Play hasn't housed anything inside the back cover to vouch its water resistant capability. The dual nano SIM and Micro SD slots have been placed together in a single ejectable slot, which shares the top edge of the device with the 3.5mm audio out port.
The volume rocker and power button has been housed together on the right and the micro USB port sits at the bottom.
Ejecting the SIM tray gives access to the two nano 4G SIM slots and the micro SD card slot on the reverse side.
The rear camera module has been placed together with the circular dual LED light and the Motorola logo in a chrome strip. Placing circular shaped flash instead of a vertical dual LED strip might prove handy, especially for close shots like macro and candid photography but we will be able to speak more on this in our full device review.
Display
Moto X Play comes with a 5.5-inch, 1080x1920 pixels, 403PPI display, which feels lustrous to the eyes. The viewing angles of the screen are certainly good and the colour balance seems perfect. The display felt pleasant to the eyes with crisp text and icons. Again, we will talk more on this in our final review.
Specification
Unlike the Chinese smartphone makers, Motorola doesn't flex its muscles with Moto X Play, rather it focused on certain consumers looking for a smartphone with a decent camera and battery life.
Under the hood, Moto X Play packs an octa-core Qualcomm Snapdragon 615 SoC, which combines two Quad-core Cortex-A53 processors clocked at 1.7GHz and 1.0GHz and an Adreno 405 GPU. On the memory side, Moto X Play comes with 2GB RAM and 16GB/32GB storage expandable up to 128GB.
We found the operating system and pre-installed system apps occupy around 6.34GB of storage space, leaving 25.66GB for users.
During the past 24 hours, we haven't experienced any stutter or chugs though those are supposed to happen while playing graphic-heavy games. Android 5.1.1 Lollipop offers a super smooth experience irrespective of usage pattern.
Camera
Moto X Play houses a 21MP rear camera module with autofocus and dual LED flash. On the front it houses a 5MP snapper for clicking selfies and placing video calls. In our initial usage, we found the camera focus accurate and sharp. The images we clicked were vibrant in colours with a subtle balance.
Unlike most of the smartphones with protruding lenses, Moto X Play's rear camera has been placed little inside from the body to protect the lens from smudges and scratches.
Battery
Another key feature of Moto X Play is its non-removable 3,630 mAh battery equipped with fast charging ability. When we unboxed the device there was only 5% battery left. It took around 2.30 hours to charge the battery fully. We are using the device in a mixed usage mode, which combines watching movies, listening to music through streaming apps synced through a Bluetooth speaker, an hour and half of placing calls and continuously connected to either 3G or Wi-Fi network. The battery state is still above 30%, which is really appreciable.
Our Verdict
For its price, Moto X Play competes with OnePlus One, Xiaomi Mi 4, Meizu MX5 and OnePlus 2 to some extent. If you compare it by putting all of them in a spreadsheet (which most of the users usually does) side by side, Moto X Play might look a little inferior. However, the device fits nicely in the segment it was intended for.