A mystery Moto series device has made its way to FCC (Federal Communications Commission), hinting that Lenovo-owned Moto (formerly known as Motorola) is preparing to launch a new smartphone.
As per the FCC listing (courtesy Roland Quandt), the new Moto device code-named Cedric comes in four variants bearing model numbers XT1670, XT1671, XT1675 and XT1676, indicating that the company may launch them depending on the specific regions' network service.
Also read: Top 5 Android phones that raised their game in 2016
Except the signal receiver modem and single or dual SIM slots, all the four variants are said to have the same hardware. They are said to flaunt a 5.0-inch display having 77mm width and 144mm length.
It is said to have the latest Android Nougat OS with 2GB RAM, 16GB/32GB internal storage and a 2,800mAh battery.
Going by the specifications, this new Moto device series seems to be a mid-range phone. There is a theory running wild on internet that this might be the 2017 Moto G5 series.
So far, Moto has not made any official comments on the Moto Cedric rumours.
Motorola "Cedric" XT1670/XT1671/XT1675/XT1676 (2/16 or 2/32GB, Single/Dual SIM, Android 7.0, 2800mAh removable batt (src: FCC), guess SD430

— Roland Quandt (@rquandt) December 8, 2016
Stay tuned for more news on Moto series products.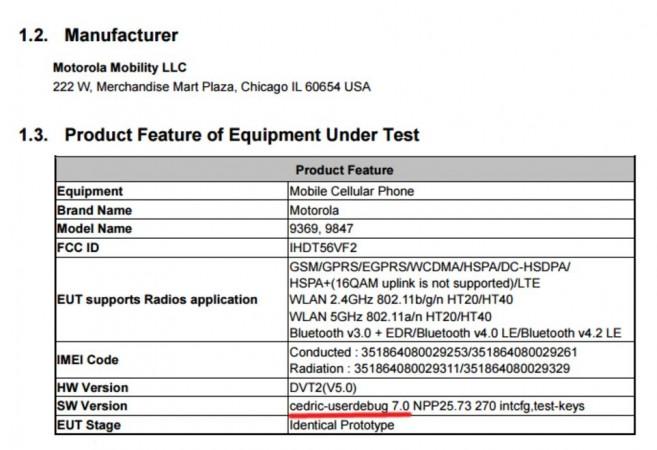 In a related development, Moto is scheduled to launch the metal-clad Moto M in India next week.
It is powered by MediaTek Helio P15 octa-core CPU backed by Android Marshmallow OS, and a 3,050mAh battery with fast-charging technology.
Read more: Flipkart teaser hints at exclusive Moto M launch next week