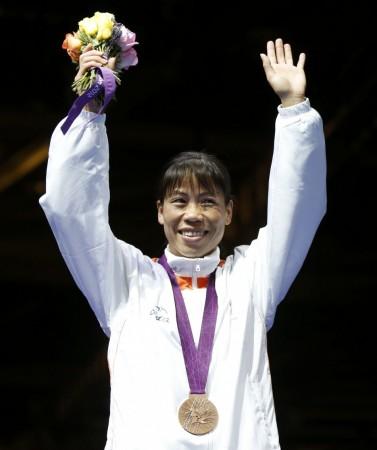 M.C. Mary Kom has been honoured with the '"Most inspirational mother who made a difference to the world" title in a recently conducted poll, leaving behind beauty queen Aishwarya Rai Bachchan and former Prime Minister Indira Gandhi.
On the eve of Mother's day (10 May), a survey was conducted among women by an online matrimonial site Shaadi.com to find out who they think is the most inspirational mother in India and Britain.
The results were based on an online poll, which received more than 9,700 responses from Indian women.
Five-time world champion and Olympic medal-winning boxer, Mary -- a mother of twin sons -- topped the list with maximum votes, followed by Aishwarya with 32.4% and Indira Gandhi with 28.5%.
In the list of inspiring mothers from Britain, late Princess Diana of Wales received maximum votes (40.2%), while "Harry Potter" author J.K. Rowling got 33.1% and cinematic icon Audrey Hepburn 26.7%.
Speaking about the survey, Gourav Rakshit, COO, Shaadi.com, told IANS: "The survey showcases some of the most successful mothers whose determination to make a difference, has inspired the world. It is very encouraging to know that people are not just looking up to them as celebrities, but also as real people with real relationships."
Back in 2013, Aishwarya, mother of adorable Aaradhya, topped the list of most-popular mother with 52.38% votes. Madhuri Dixit Nene was ranked second with 29.27% while actress Sridevi took the third spot with 18.35%.
Earlier, the former Miss World had even topped the list of Bollywood diva with qualities of being an ideal mother, conducted by the same matrimonial site.