A historic mosque in the Iraqi city of Mosul was blown up on Wednesday, with the Islamic State group — also known as the Islamic State of Iraq and Syria (ISIS) or the Islamic State of Iraq and the Levant (ISIL) — and the US forces blaming each other for the act.
Either way, the destruction of the historic Grand al-Nuri Mosque — which was chosen by ISIS chief Abu Bakr al-Baghdadi to declare his "caliphate" — is believed to mark the end of the terrorist group. ISIS has been struggling to stay afloat for months, amid crippling financial situation that got so desperate recently that they used horses and donkeys due to shortage of funds!
Conflicting statements
"The responsibility of this devastation is laid firmly at the doorstep of ISIS," said Major General Joseph Martin, who leads the US-led coalition's combined joint forces' land component in Iraq.
He added that the destruction of the mosque, which was famous for a leaning minaret among other things, was "a crime against the people of Mosul and all of Iraq."
ISIS, meanwhile, blamed the US forces for the destruction of the mosque, blaming the devastation on airstrikes conducted by US-led forces.
That the mosque was destroyed during the Islamic holy month of Ramadan and possibly around the night of Laylat al-Qadr — the holiest of nights when the holy Quran were apparently revealed to Prophet Mohammed — could be a new rallying point for the terrorist group.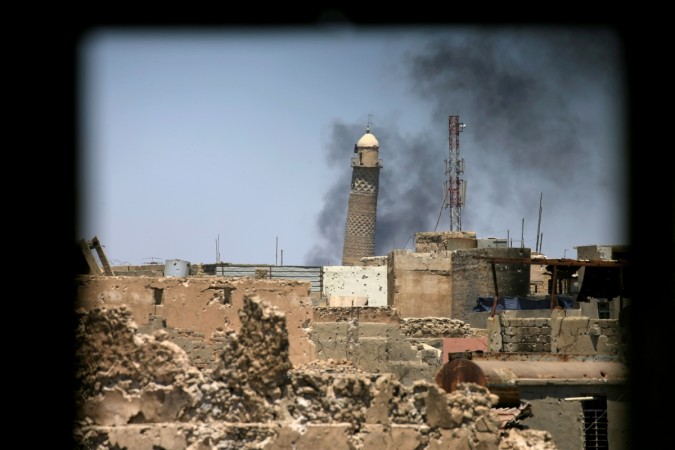 ISIS defeated?
Following the destruction of the mosque, Iraqi Prime Minister Haider al-Abadi has said the incident amounts to "an official announcement that they [ISIS] have admitted their defeat."
The statement banks on the inference that ISIS has destroyed the very place from where it became the self-declared "Islamic State," and therefore the destruction of the mosque means the destruction of the terrorist group in Iraq.
If ISIS is really gone from Mosul after an eight-month fight with the IRaqi forces backed by the US, then the only stronghold — or what remains of it — the terrorist group has is in Raqqa in Syria.