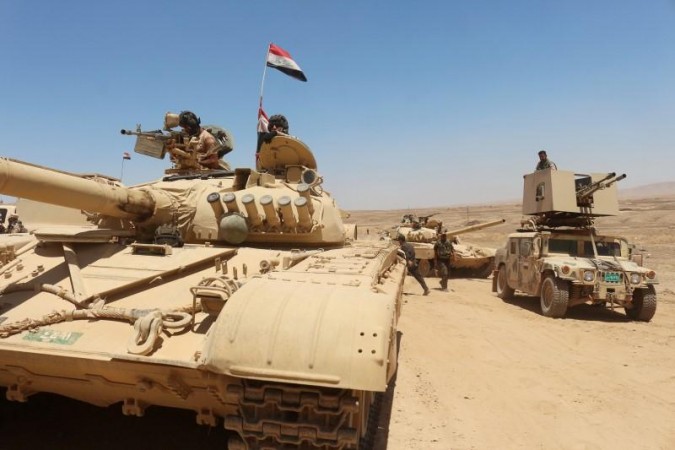 The Islamic State (ISIS) is killing dozens of people in areas around Mosul controlled by the militant group in a bid to instil fear in the opposition coalition. Iraqi security forces had started the battle to retake Mosul from ISIS eight days ago.
Mosul, a city in northern Iraq, has been governed by the Islamic State since June 2014 and is the last remaining major city in Iraq under the militant group's control.
Around 30,000 Iraqi troops, Kurdish fighters, Shia militiamen and Sunni Arab tribesmen backed by US-led airstrikes have launched an offensive against ISIS to retake Mosul. The militants had taken control of swaths of Syria and Iraq committing massacres, sexual enslavement of women and genocide of religious deviants.
According to information received by United Nations' human rights officials, there have been fresh reports of atrocities committed by ISIS on civilians. Reports state that one woman and three children were shot dead by ISIS militants for trailing behind after they were forced to march from one village to another.
In another incident, there were reports of 15 civilians being killed and their bodies thrown in a river to spread terror in wake of the fresh onslaught by the Iraq government.
The UN has said that the fresh attacks on people have reinforced fears that ISIS will use civilians as human shields in the Mosul battle.
There are believed to be some 3,000 to 5,000 ISIS militants in Mosul and the operation to retake the city could take weeks.
On Monday, United States Defence Secretary Ashton Carter had said that the offensive operation was going as planned. He also said that the groundwork for isolation of ISIS in Raqqa is also being laid.
"As we meet here, we are hoping to generate the local forces that will do so," Carter said after a meeting with coalition counterparts in Paris, BBC reported.
The spokesperson for the United Nations High Commissioner for Human Rights, Rupert Colville, on Tuesday said that they have received reports of crimes against children, women and also male civilians.
"It is however hard to immediately verify all the reports we are getting, so the following examples should be treated as preliminary and not definitive," Colville said.
ISIS also attacked a chemical factory as a defensive strategy which released toxic sulphur gases in the atmosphere that sickened thousands of locals.