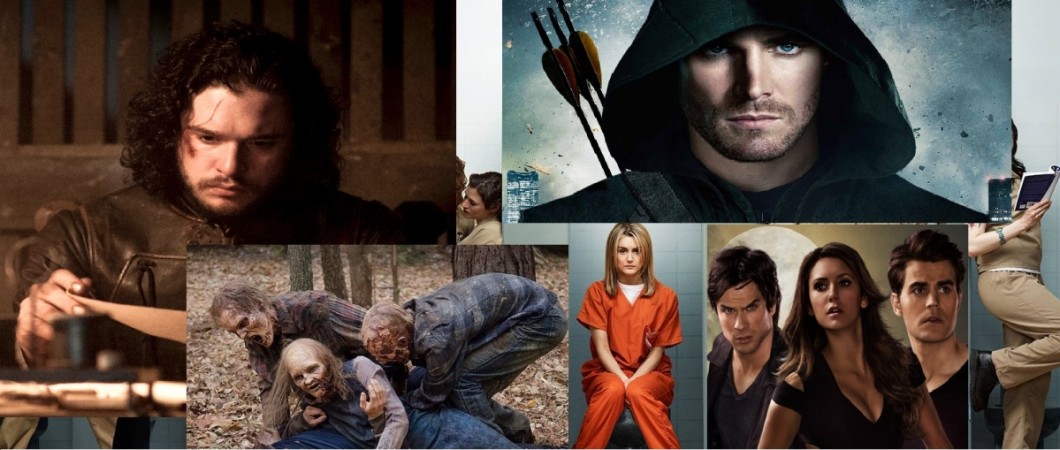 "Game of Thrones" season 5 finale reset the piracy benchmark when it broke its own record of being the most-pirated show. Now, "Orange is the New Black" season 3, which was released recently, is being illegally streamed in a big way.
Netflix is going through an ordeal experienced by HBO just a few months ago. The on-demand Internet streaming media provider is having a tough time battling piracy of its hugely popular show "Orange is The New Black".
When one searches "Orange is the New Black" season 3, more than five websites pop up, each one claiming to have the updated version of the latest season of Netflix's original series. Ironically, Netflix link is not even to be seen in the search result.
Apart from "Game of Thrones" and "Orange is the New Black", there are other shows that have always been viewers' favourites and as expected, have made it to the pirated list.
"The Walking Dead": Based on the comic book series written by Robert Kirkman, this gritty drama portrays life in the weeks and months following a zombie apocalypse. It follows Sheriff's Deputy Rick Grimes, who leads a group of survivors in a world overrun by zombies.
The midseason premiere episode of this zombie thriller in February this year was downloaded by about 1.29 million individual Internet addresses worldwide within 20 hours of airing.
"Marvel's Daredevil": Netflix premiered this street-hero series on 10 April this year and according to reports, nearly 2.1 million individual users have downloaded episodes of the show worldwide via torrent networks.
The show narrates the story of a blind lawyer, who, with his other senses, fights crime as a costumed superhero.
"The Big Bang Theory": This popular comedy series that revolves around Mensa-fied best friends and roommates Leonard and Sheldon is undoubtedly the most-watched comedy on television.
The show has mostly been on and off the list of the most-pirated shows. In 2013, it was pirated 3.4 million times and was viewed live by 20.44 million viewers.
"Arrow": CW's action-adventure is another show that always tempts viewers to Torrent it. "Arrow" is about a spoiled billionaire playboy Oliver Queen, who is missing and presumed dead when his yacht is lost at sea. He returns a changed man five years later, determined to clean up the city as a hooded vigilante armed with a bow.
"The Vampire Diaries": This hugely popular fantasy drama, which is about a teenage girl torn between two vampire brothers, was the fifth most-pirated show in 2014 with about 23 million worldwide torrent downloads.
According to the 2014 list of most-pirated shows, other series such as "Supernatural", "How I Met Your Mother", "Agents of S.H.I.E.LD", "Suits", "Homeland" and "The Blacklist" are also popular torrent downloads worldwide.