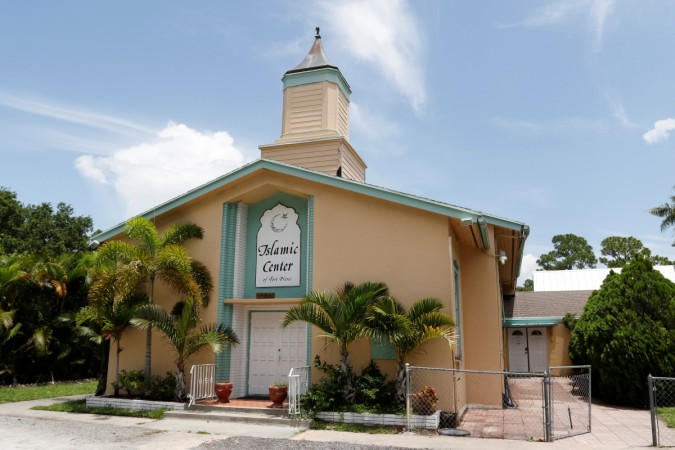 The mosque frequented by the man behind the recent Orlando nightclub massacre – Omar Mateen, was set on fire by arsonists in what appears to be a hate crime. The incident comes around the eve of the 9/11 anniversary and the festival of Eid al–Adha.
No one was injured in the fire that broke out shortly before midnight on Sunday at the Islamic Center of Fort Pierce. The fire burned a 10-by-10-foot (3-by-3-metre) hole in the roof at the back of the mosque's main building and blackened it.
St. Lucie County sheriff's spokesman Maj. David Thompson was quoted saying to Associated Press that he is investigating it as a possible hate crime. The FBI and the Federal Bureau of Alcohol, Tobacco, Firearms and Explosives also joined the investigation.
A surveillance video from the mosque showed a man on a motorcycle approaching the building with a bottle of liquid and some papers. There was a flash and the man shook his hand. Thompson said that his office has released the video and asked for the public's help in identifying the arsonist.
The arsonist "is terrorizing our community because we don't know where he is at and we don't know what he is capable of doing," Wilfredo Amr Ruiz, a Florida spokesman for the Council on
American-Islamic Relations was quoted saying.
Ruiz said the mosque and its worshippers have been continually harassed since the massacre. "First there were threatening voice mails. Then, drivers would splash water on the parishioners leaving on Fridays, and then a member got beat up in the parking lot when he came to the mosque for early morning prayers, and now the mosque has been set on fire."
Three months ago, on June 12, Omar Mateen, who had pledged allegiance to the Islamic State group was shot dead by police after he killed 49 people at the Pulse nightclub. His father is among roughly 100 people who attend the mosque.
In the aftermath of the massacre, assistant imam Hamaad Rahman said that the frequency of threats to the mosque which is more than 20 years old have escalated dramatically.
"For this to happen to us on the morning of our biggest celebration of the year has made everyone saddened and scared, but our community is bigger than a building. We are stronger than that," he said. "I feel we will be able to pull together from this, and as time goes by we will be able to rebuild."