After pictures of the cardboard-wrapped bodies of the Indian Air Force personnel who died in a helicopter crash in Arunachal Pradesh on Friday went viral on social media, the Indian Army on Sunday that it was an 'aberration' that happened as the remote outpost lacked basic resources.
Engineer killed after being snared in helicopter blades in Uttarakhand
"Mortal remains of helicopter accident in high altitude area on October 6 recovered, sent wrapped in local resources is an aberration," the Additional Directorate General of Public Information (ADG PI) tweeted.
The ADG PI added that such an act will not be repeated.
Highly criticised
The pictures of the deceased military men wrapped in the cardboard boxes were shared and retweeted by many. It earned the ire of many who criticised the treatment given to the dead bodies.
Retired Lt Gen H S Panag, who has commanded the northern and central commands, tweeted pictures of the bodies of the military personnel wrapped in plastic sacks, packed in cardboard pieces and tied in pink coloured pieces of clothes.
"Seven young men stepped out into the sunshine yesterday, to serve their motherland. India. This is how they came home (sic)," tweeted Panag.
Why wrapped in cardboard boxes?
The unfortunate accident took place at 6.30 am on Friday when the Mi-17 V5 transport helicopter which was on air maintenance mission crashed and killed five Air Force and two Army personnel on board.
However, as Tawang is a remote outpost, the Army reportedly did not have necessary arrangements to wrap the bodies.
One officer said that the post where the helicopter crashed was air-maintained and did not have even basic facilities.
"To evacuate the remains from there, personnel there had to use whatever was available," the officer told The Hindu.
One official said it was indeed wrong to blame the soldiers at the spot that they treated the bodies with disrespect. "They did the best for their colleagues," said the official.
Other top officials, who also echoed the same reason said that because the bodies were lying in the open at the crash site, the best available resources were made use of, Economic Times reported.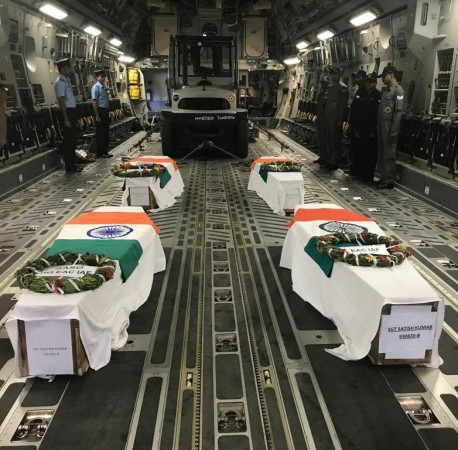 The military personnel said that once the mortal remains of the Army and Air Force men were airlifted to Guwahati, they were given the treatment they deserve and were sent to the families with full military honours.
"Fallen soldiers always given full military honour. Carriage of mortal remains in body bags, wooden boxes, coffins will be ensured," the ADG PI tweeted.