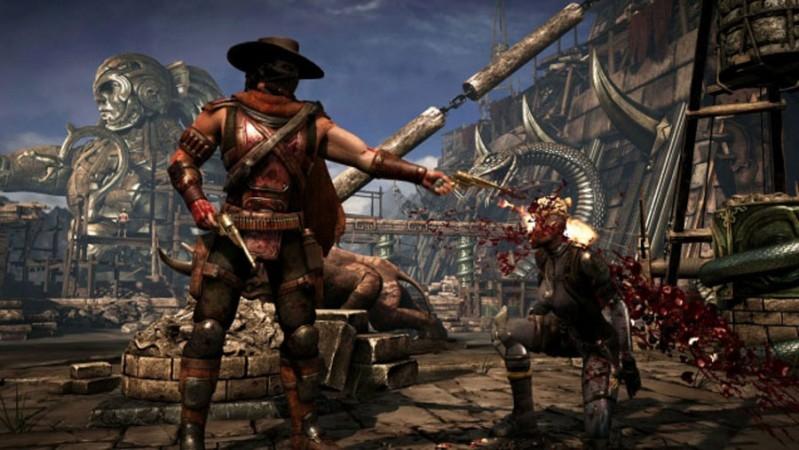 A new Mortal Kombat game is slowly approaching, and with it some of the most gut-wrenching and gory finishing-moves that we have adored for so long. Since the early MK days, the series has been destined to go places, and here we are in 2015 expecting the upcoming Mortal Kombat X.
With the game set for a final release this April, all eyes are on the likes of designer Ed Boon and developing studio NetherRealm for the kind of additions and changes that have been made from the last Mortal Kombat 9. And obviously, most of the interest is based on the new characters and fatalities that will be there this time.
However, there's more than it meets the eye for the new Mortal Kombat X, and here's a round-up of everything that we have seen or heard from the game so far.
New Characters (Confirmed and Otherwise)
Since most of the interest in the new MK is involved with the characters that will be included in the roster this time around, here's some good news: NetherRealm Studios has confirmed that sci-fi icon Predator (Ghet intho thhe chopphher!) will be a playable character in one of the game's four DLC character packs. The alien hunter joins guest-star Jason Vorhees (of Friday the 13th) and quite the elusive MK universe characters Tanya and Tremor. Check out the trailer below that heralds all the four newcomers.
Note that each of the four packs will contain one playable character and skins for several other characters. For example, Carl Weathers from Predator is now a skin for Jax, while Predator-themed skins are available for Commando Johnny and Infrared Scorpion. There's the Ultimate Horror Pack that not only offers Jason as a playable character, but also brings horror skins such as Vampiress Mileena, Kraken Reptile and Pharaoh Ermac.
There's also the Klassic Pack #1 that brings Tanya as a playable character, plus "Klassic skins for Kano, Sonya and Liu Kang." You could also go for the Klassic Pack #2 that brings Tremor as a playable character, alongside Klassic skins for Quan Chi, Jax and Kung Lao.
Apart from that, a new set of screen-shots were previously leaked on the Internet, revealing a new playable character Erron Black. Black made his appearance in the Mortal Kombat X comic book #4, and was speculated to join the game's roster. However, the character has now been confirmed with an image showing him performing a Brutality on Cassie Cage.
Here's a list of all Mortal Kombat X characters confirmed so far:
Cassie Cage
D'Vorah
Ermac
Ferra/Torr
Goro
Kano
Kitana
Kotal Kahn
Kung Lao
Quan Chi
Raiden
Reptile
Scorpion
Sub-Zero
Jacqueline Briggs
Takashi Takeda
Kung Jin
Johnny Cage
Sonya Blade
Mileena
Jason Voorhees
Mortal Kombat X with Micro-transactions?
While NetherRealm isn't opening the lid anytime soon, the company plans on introducing micro-transactions into the upcoming game. But there's a slight possibility that MK X might bring in the feature. "We are not releasing any details on that yet," NetherRealm Studios marketing manager Brian Goodman told IGN recently. The report stressed on the word "yet" on the introduction of micro-transactions into the game and hinted that the feature could be implemented "if the Krypt makes a return" and could be used in conjunction with that.
Bad News: Delay for Last-Generation Consoles
Rumours were rife previously about how the new Mortal Kombat would not arrive on the likes of Xbox 360 and PlayStation 3. In fact, more fuel was added to the fire after a trailer missed out on the aforementioned platforms for the game on release. However, a later Videogamer report clarified that the game's version for the last gen has been officially delayed, and that it will be worked upon by High Voltage Studios rather than NetherRealm.
New Faction Features; Living Towers
NetherRealm is said to add new features – Living Towers and Factions to Mortal Kombat X, to the single-player story mode and online modes. The Living Tower will be an upgrade from the Challenge Towers of the previous games of the series, and will bring three different types of challenges – Quick, Daily and Premier that will be "switching by the hour."
Factions, on the other hand, is said to be a relentless online feature that will have players select one of the five factions on offer, including the Black Dragon, Brother of Shadow, Lin Kuei, Special Forces and White Lotus. "Factions are a persistent meta-game that builds of a core game" letting players rank up within the faction with the ability to unlock faction-specific rewards.
Every Faction will have to face other powerful ones like the NetherRealm, Outworld or Chaos realm when they invade, and this will occur randomly every week.
Quitalities: Punishment for Quitting Game Early
Although almost a cosmetic addition into the thick of things, Quitalities is the newest feature to be added to the game. Quitalities have been added to humiliate those who quit matches prematurely. When a player prematurely leaves a game, their character's head will explode as punishment for being a quitter not accepting his or her fate gracefully. The developers said this is a way of "making the winner look better," and although not as satisfying as decapitating your opponent in the most brutal manner possible, it still is a refresh to see one or two heads explode once in a while (digitally, that is).
For the full list of in-game achievements, head over here. Mortal Kombat X is currently set for release on PlayStation 4, PlayStation 3, Xbox 360, Xbox One, Android, iOS, Microsoft Windows.