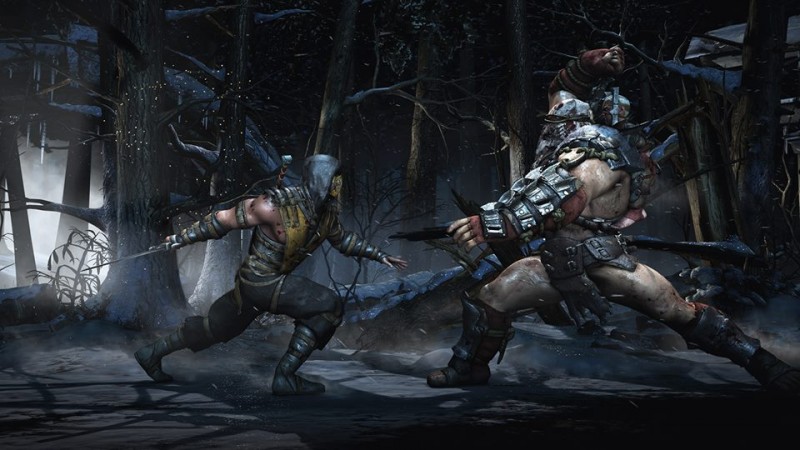 NetherRealm Studios are stepping up the excitement, as the launch date for their most anticipated fighting game, Mortal Kombat X draws closer. A new set of screenshots that have been leaked on the Internet has revealed a new playable character Erron Black performing a Brutality with his gun.
There were rumours in February that had hinted at the possibility of Black marking his entry into the game. A picture of him posing next to the game's bad guys like Kotal Khan and D'vorah made many believe he could be the henchman of Khan.
Black made his appearance in the Mortal Kombat X comic book #4. He was speculated to join the game and this has now been confirmed with the image showing him doing a Brutality on Cassie Cage.
The image shows him in his cowboy getup toting two small arm guns and with no remorse for his rival.
The image also confirms that Jax Briggs will be a playable character. We can also see Shinnok and Goro in a fight scene.
The screenshots were revealed originally by Xbox Achievements.
Mortal Kombat X is scheduled for release on 14 April for PC, PS4 and Xbox One. The release of PS3 and Xbox 360 versions will be in Summer 2015.
Below is a list of characters that have been already confirmed by the developer:
Cassie Cage
D'Vorah
Ermac
Ferra/Torr
Goro
Kano
Kitana
Kotal Kahn
Kung Lao
Quan Chi
Raiden
Reptile
Scorpion
Sub-Zero
Jacqueline Briggs
Takashi Takeda
Kung Jin
Johnny Cage
Sonya Blade
Mileena
Jason Voorhees
Achievement List Leaked
The Achievement or Trophy list of Mortal Kombat X has been leaked. The list is however only for Xbox 360 and Xbox One consoles.
The list was available via Exophase and Xbox Achievements. There is no specific revelation from the list the below Achievements for the game.
Achievements Guide to Unlock it Gamescore Points
Tower Kompetitor
Complete a single Tower
10G
Tower Warrior
Complete a Tower with every character
25G
Tower Master
Complete 10 Living Towers
25G
Tower God
Complete 50 Living Towers
25G
Challenge Accepted
Win a single Tower Challenge
10G
BUDDY!!!
Send a Tower Challenge to a friend
10G
Pledge Yourself
Reach level 5 in any faction
5G
Faction Champion
Reach level 50 in any faction
25G
No Loyalty
Reach level 50 in all factions
75G
Jump Ship
Become a member of every faction
10G
Time Out
Win a match by time out
10G
Keep It Secret
Find a secret fight in the Living Towers
25G
Statistical Advantage
View Kombat Kard
5G
Moving Up
Reach personal level 10 in XP
5G
Elder God
Reach personal level 65 in XP
50G
A New Beginning
Complete 50% of Story Mode
10G
There is a Ruler
Complete 100% of Story mode
25G
Inner Strength
Win 1 complete online match
10G
Return Kustomer
Play 100 complete online matches
25G
Royalty
Win 5 complete Regular King of the Hill matches
5G
Good to be King
Win 1 complete Regular King of the Hill match
5G
Giving Respect
Give Respect points in a King of the Hill match
5G
Respected Fighter
Earn 1,000 Respect points
25G
Terrifying Encounter
Confront a beast within the Krypt
50G
I'm number 1
Win 1 Tower Battle
10G
Juggernaut
Win 5 Tower Battles
25G
A Kontender
Complete 1 Tower Battle
10G
Bill of Goods
Win 1 complete match in Survivor King of the Hill
5G
Dropping Fools
Reach a 10 complete game win streak in Ranked 1v1 matches
10G
Hit the Dojo
Enter Practice Mode
5G
Unstoppable
Play 200 complete online matches
50G
That's How You Do It
Complete Tutorial
5G
Knockout
Perform a 10 hit combo with every character
25G
FINISH HIM
Perform 1 Fatality in a match
5G
Bloody Good Time
Perform a Fatality in a match with every character
10G
Straight Power
Perform 100 Fatalities in matches
25G
Brutal End
Perform 1 Brutality
5G
Dark Future
Perform 50 Brutalities
25G
Need a Doctor
Perform every character's X-Ray
25G
Master
Win a single complete match with every character variation
25G
Only a Real Master
Beat an opponent while they still have 90% health and you have 10% or less health remaining
25G
Well Rounded
Play every character variation
25G
It's a Gusher
Spill 1,000 pints of blood
10G
Blanche Advantage
Hit someone with the old lady Level Interaction
25G
Hara Kiri
Kill yourself with Kotal Kohn for 1 round and win the match
10G
Back It Up
Equip a new Background image
5G
Real Icon
Equip a new Icon
5G
So Bored
Equip a new Border
5G
Jumping Bean
Jump 30 times in 1 match
5G
Trolling
Duck 30 times during Fatality sequence
5G
All the Pieces
Equip a Background, Icon and Border set
5G
Luck Be a Lady
Play 7 complete Test Your Luck matches
10G
The Kollector
Unlock 50 Kustom Kombat Modifiers
50G
Disco
Create a sun ray with Kotal Kohn and perform a flip stance 5 times while in the ray
10G
Almighty
Complete a Test Your Might Tower
10G
Not Dead Yet
See all Test Your Might deaths
10G
Stay Back
Play an Invasion Boss Fight
5G
DIE WILL YOU
Deal 1,000 total hits during Invasion Boss Fights
50G
INVASION
Complete an Invasion Tower
10G
Can't Stop This
Win an Invasion 1v1 fight
5G