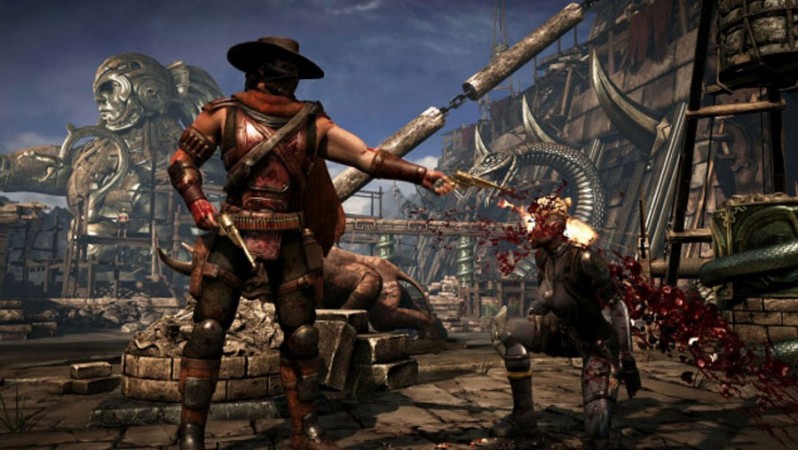 Mortal Kombat X is one of the eagerly awaited video games of 2015 and it will feature some astonishingly gruesome moves that will send a chill down the spine to anyone playing it, as indicated by the numerous video trailers that have been released till date.
NetherRealm Studios, the developers of the game have now promised fans that it will be simplifying the high point in Mortal Kombat game series – the Fatalities, the signature finishing moves.
Fatalities for most players have been a difficult trick which has to be achieved at the fag end of a match by inputting a series of button presses that will commence a Fatality. But if players fail to do the right input and that too in the limited amount of time that they will have at their disposal, they might finish the game with only a light punch or kick that will end the game on a rather sad note, reported GameSpot.
In a recent NetherRealm Studios live stream, Tyler Lansdown, community specialist revealed that a small skull at the screen bottom seen in the videos previously revealed were in fact related to the Fatalities.
"Now, we've learned through years and years of study that there are a lot of people who just can't pull off Fatalities, or they get freaked out or they can't figure out the timing. So when the game launches, you'll have a couple of those--maybe three of them--day one. You'll have those just to use and do easy Fatalities on," Lansdown clarified.
"There are certain places you can unlock those and things like that. So you'll always have access to easy Fatalities--if you want to use them," he added.
The pre-order playable character bonus, Goro will be made available in the future as part of the DLC, the live steam revealed.
Recently the developer also confirmed the existence of a gun slinging cowboy, Erron Black.
Other recently confirmed Kombatants include Kung Lao, Liu Kang and Kung Jin. Also, rock band, System of a Down is joining hands with NetherRealm for the game.
Mortal Kombat X will be entering the rings on 14 April, 2015 for PC, PS4 and PS3. The PS3 and Xbox 360 editions will be released at a later date.