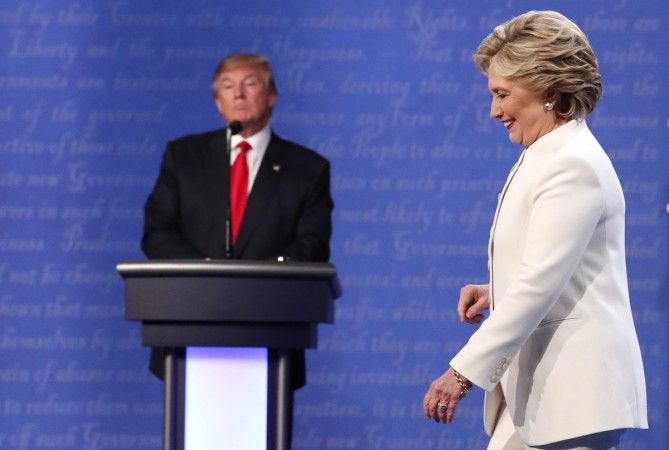 Here are a few stories from International Business Times India to start your day with:
1. Was Trump right all along? New Wikileaks hint Clinton may have got debate question in advance
In newly released Clinton campaign emails disseminated by WikiLeaks, the Washinton Post reports that then-CNN contributor and DNC official Donna Brazile — who is now the DNC's interim chair — shares more detail about a forthcoming question at a Democratic debate and promises more information before a separate town hall. Read more...
2. AP, Telangana top ease-of-doing-business list; Gujarat slips to number three
Andhra Pradesh and Telangana have jointly topped the ease of doing business ranking, while Gujarat has slipped to the third position in the list prepared by the World Bank and Department of Industrial Policy and Promotion (DIPP). Read more...
3. All eyes turn to Tata firms ahead of Q2 board meets
The multiple stakeholders in the Tata group, including foreign investors, and regulators such as Securities and Exchange Board of India and Ministry of Corporate Affairs are keeping a close watch on the upcoming board meetings of the group companies to approve their respective quarterly results, Business Standard reports. Read more...
4. Cars, bikes launching in November; from Bajaj Pulsar VS400 to Hyundai Tucson
Automobile manufacturers are gearing up to introduce their latest offerings in the market this festive season. Many car makers launched new vehicles in September and October, while some of the most-anticipated vehicles are waiting for a release in November. In addition, there are some face-lifted versions of the current models. We have compiled a list of the vehicles entering the market soon. Read more...
5. Apple, Samsung lead a shrinking tablet market; detachables on the rise
Global shipments of tablet computers dropped 14.7 percent year-over-year to 43 million tablets shipped in the third quarter 2016, according to research by International Data Corporation published on Monday, and reported in Fortune. Read more...