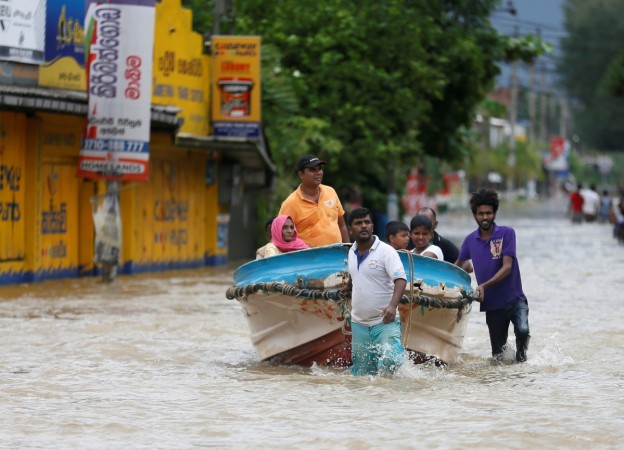 Over 200 families are feared buried under landslides in Sri Lanka as torrential rains hit the country more than three days ago, according to an ABC News report.
The Guardian reported that rescue operations by the Red Cross officials have been hampered because reaching the hilly areas was dangerous. Mahieash Johnney, senior manager of communications at the Red Cross, was quoted as saying: "Rescuers would have to get there by foot and start digging with their hands before we can get any heavy equipment in to the site."
The Disaster Management Centre (DMC) officials have been quoted by Reuters as saying that 19 areas have been affected due to heavy rains and strong winds, with Colombo and the surrounding areas being the worst-hit. Rescue operations have reportedly focused on Aranayaka, a town located 100 km northeast of Colombo where three villages were buried under landslides in the Kegalle district. The report also said 16 people were buried in another landslide in Bulathkopitiya, also located in Kegalle.
Meanwhile, a report by Reuters said the official death toll in the country has risen to 35 after 19 bodies were recovered across the country. The latest official data showed that heavy rains have forced over 196,000 people from their homes, according to the report.
According to the Reuters report, the DMC officials have safely evacuated over 350 people during rescue operations carried out in landslide-affected areas across the country. Rescuers are still looking for survivors and recovering the dead.
Local media reports said the DMC has issued landslide warnings in several districts across the country, with special stress on people in hilly areas. Important roads in the country have been submerged while the main rivers like the Kelani and Gin are overflowing. Trains have reportedly been stopped because railway tracks are submerged in the floods.
Pradeep Kodippili, assistant director of the DMC, has reportedly said the government is taking all measures to provide relief, including food, to the people affected. Local media reports also said the Sri Lankan Army, Navy and Air Force, along with the police, have deployed teams to assist the DMC.
According to the Colombo Gazette, the country's Department of Meteorology has said heavy rains in the country will recede to a certain extent but strong winds will continue.