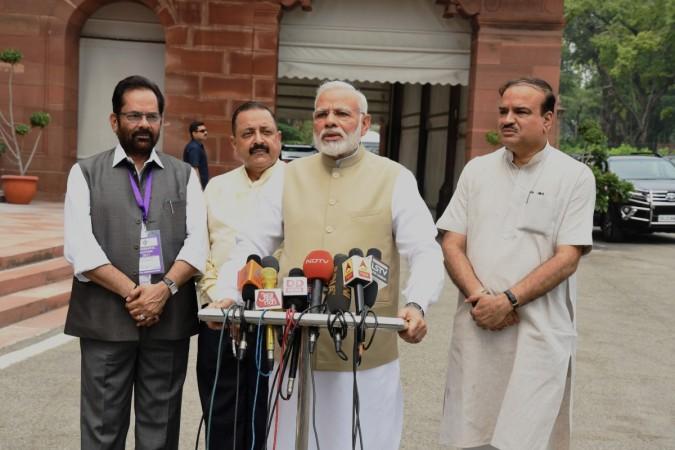 Prime Minister Narendra Modi believes that the Monsoon session of Parliament will provide an opportunity to all the political parties and MPs to enter into a dialogue of the highest quality with value addition for taking major decisions in the larger national interest together.
However, both the Lok Sabha and the Rajya Sabha were adjourned after giving obituaries to former members and victims of the Amarnath terror attack.
PM Modi addressed the media after arriving in Parliament and said: "The GST spirit is about 'growing stronger together'. I hope the same GST spirit prevails in the session. GST shows the good that can be achieved when all parties come together and work for the nation."
He added: "Today, the Monsoon session begins. Just like rains make soil emit a pleasant smell, similarly, the successful implementation of the GST has filled the session with a new hope and excitement."
PM Modi also hoped that all political parties and MPs "will take important decisions in the national interest by discussion and intention of value addition."
The Prime Minister also saluted the farmers of the country who work hard during the season to provide food to the citizens of the country.
"This session will see the election of the new President and vice president. It will also see the 75th anniversary of the Quit India Movement on August 9," PM Modi said.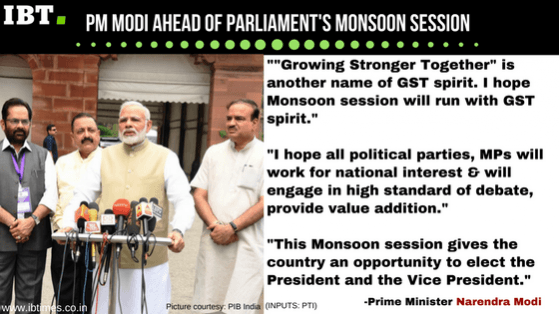 The Centre will introduce 16 new Bills for consideration and passing in both the houses of the Parliament during the session.
Meanwhile, the Opposition is expected to raise several issues like the conflict with China over Sikkim, unrest in Jammu and Kashmir and West Bengal, the Darjeeling crisis and the impact of the Goods and Service Tax (GST).