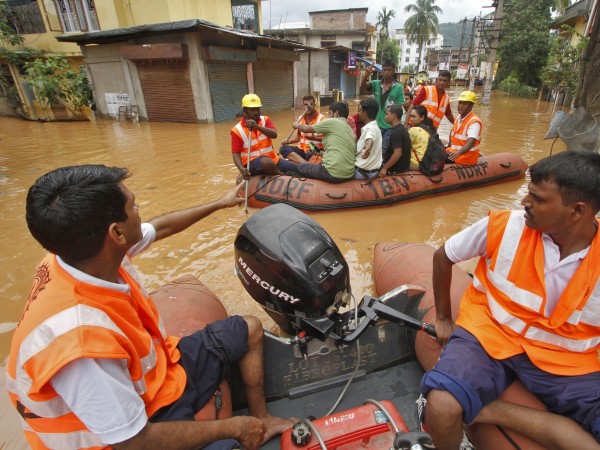 The Home Ministry said on Saturday that at least 465 people have lost their lives due to heavy rains and flood in five Indian states i.e Maharashtra, Kerala, Bengal, Gujarat and Assam.
As per the report of Ministry's National Emergency Response Centre (NERC), the highest number of deaths in the current monsoon season were reported in Maharashtra. So far, a total of 138 died in Maharashtra, 125 in Kerala, 116 in West Bengal, 52 in Gujarat and 34 in Assam.
Closer look at fives states' situation
Notably, the rains have made the situation worst in Maharashtra's 26 districts, 22 in West Bengal, 21 in Assam, 14 in Kerala and 10 in Gujarat. As many as 10.17 lakh people have faced the outrage of incessant rains. As the homes and properties of 2.17 lakh, people were damaged due to floods, they have taken a shelter in relief camps.
A team of the National Disaster Response Force (NDRF) consists of 45 personnel and 12 NDRF teams were deployed in Assam. "Twelve teams of the NDRP were engaged in rescue and relief operations in Assam," the NERC said according to the Press Trust of India.
In West Bengal, around 1.61 lakh people have faced brunt of constant rains and floods, and eight NDRF teams were deployed for a rescue mission in the state. Several NDRF teams were positioned in Gujarat to help people hit by floods and rains. The teams have evacuated about 15,912 people to safer places.
Further, 11 NDRF teams were stationed in Kerala, 1.43 lakh people were affected by the floods. Three NDRF teams were deployed in Maharashtra for rescue and relief operations. Moreover, the the Indian Meteorological Department (IMD) is issuing rains and floods alerts to different vulnerable areas across the country via local television channels and district magistrates.