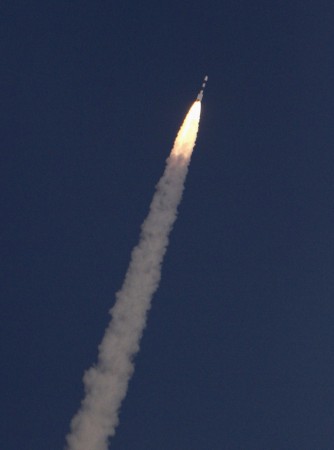 India's Mars Orbiter Mission (MOM), more fondly called as "Mangalyaan", is only nine days away from the Red Planet, and the India Space Research Organisation is already buckling up to prepare for the D-Day on 24 September when it is slated to enter the Martian atmosphere.
If the mission is successful, India will be the first country to achieve its Mars mission on the first attempt.
ISRO, which has been continuously updating followers about Mangalyaan's journey in space ever since its launch last year, put up a post on its Facebook page on Sunday that read - "10 days to Mars: Loading of time-tagged commands has just begun. It will take about 13 hours to load and verify all the commands required for Mars Orbit Insertion."
Scientists at ISRO's Telemetry Tracking and Command Network wing in Bangalore fired off a few commands to test-fire the liquid apogee motor (LAM) engine for four seconds, according to The Times of India.
MOM has completed almost 98% of its helio-centric journey to Mars travelling idle for nearly 300 days, and will undergo a crucial test on 22 September when it will enter the Red Planet's sphere of influence.
"We have to see if the engine is in shape, hence the test," ISRO chairman K Radhakrishnan told TOI.
The Mars mission project, India's first space mission to Mars, was done on a ₹450-crore budget, said to be one of the most economical space missions in the world. It was launched from Sriharikota in Andhra Pradesh on 5 November 2013.
The cost-effective mission had prompted Prime Minister Narendra Modi to compare it to the sky-high budget of Hollywood movie "Gravity" during his speech at ISRO in June.
The United States had six attempts to get its Mars mission right, while Russia took 10 attempts to enter its spacecraft into Mar's atmosphere. In fact, this feat, if achieved by India, will give the nation an one-upmanship over China, which is yet to get its vehicle on Mars.