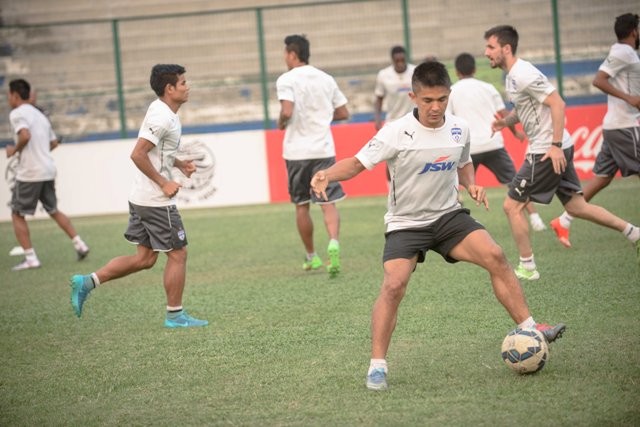 An encounter between Mohun Bagan and Bengaluru FC will forever be remembered as one of the most important fixtures in the history of the I-League. The clash between the two sides determined the I-League title winner around a very similar time last year.
This time the I-League title has already been won at the Kanteerava Stadium by the home team. However, having said that, nothing can be taken away from the mouthwatering display of football we can expect when Bagan and Bengaluru collide for the final time this season.
Both teams go into their final game of the I-League 2016 season on Saturday at the Kanchenjunga Stadium in Siliguri.
BFC are currently on 32 points -- five points ahead of second-placed Mohun Bagan in the league table. Many can expect that since the title has already been won by Bengaluru FC, they can field their bench players for the game. However, Ashley Westwood has different plans.
"It's a football match and there will be no complacency whatsoever," said Bengaluru FC head coach Ashley Westwood via a media release ahead of the game. "Anybody who knows me knows I like to win – whether it's training, cards or a football game."
Sanjoy Sen, Mohun Bagan coach, meanwhile saw a great season come crashing down for them in the closing stages; resulting in the loss of the I-League title. He is confident however that Bagan can continue their impressive form against Bengaluru FC.
The Kolkata side have been undefeated against BFC in their previous three meetings; two of them have been emphatic wins.
"We have to forget whatever has happened and have to look forward," Sen was quoted as saying by Goal on the roller-coaster I-League season his side have had. "We have this match against Bengaluru and then the AFC Cup match on Wednesday [against Maziya in Male].
"We have to prove that Mohun Bagan can defeat a champion side. We also have to prove that sometimes the best side loses out on the trophy and that is what we will be able to evaluate," he added.
First leg result: Bengaluru FC 0-2 Mohun Bagan.
Where to watch live
I-League: Mohun Bagan vs Bengaluru FC is scheduled to kick-off at 7:05 p.m. IST (1:35 p.m. GMT), April 23.
Viewers in India and the rest of the subcontinent can catch the game on Ten 2 (Ten Action).
Online streaming will be available on tensports.com.
Live scores of the match can be found on the I-League twitter handle.