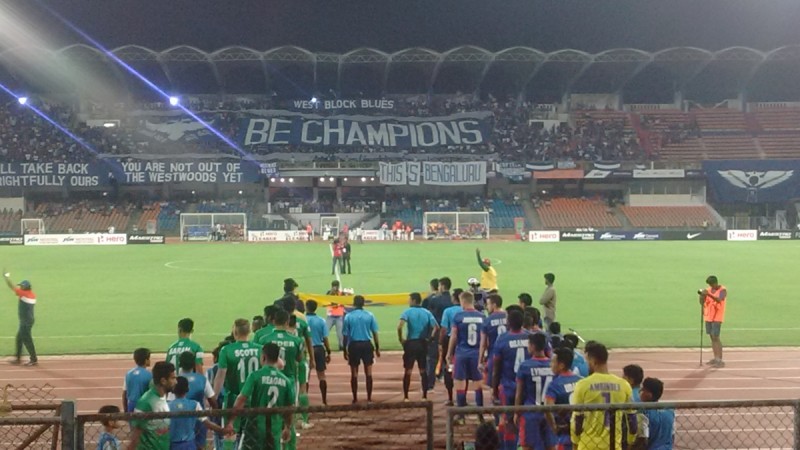 Bengaluru FC made history on Sunday as they clinched their second I-League title in three years with one game to spare. Ashley Westwood's men defeated Goan side Salgaocar FC 2-0 at the Sree Kanteerava Stadium; the goals coming from Eugeneson Lyngdoh and Len Doungel.
BFC moved on to 32 points after the win, snatching the title from Mohun Bagan.
The hosts didn't take too much of a time to settle down as Eugenson got the first blood for Bengaluru in the eighth minute of the match. Salgaocar custodian Karanjit Singh was taken by complete surprise as his first save off a cross fell in no man's round. The ever-prowling Eugeneson was there however to get the job done for the home side.
Salgaocar forward Martin Scott began the match well for the away side as the Scotsman kept on carving out changes, only to be kept out by the Bengaluru defence time and again. There was a constant duel between Manandeep Singh and Curtis Osano but the experienced defender came out top on all occasions.
Aslon Oliveira too, gave his heart out for the away side but it is only a shame that the U-22 Indian footballer was substituted out of the game in the 24th minute mark.
Sunil Chhetri and Eugenson completely dominated the BFC attacking third and had it not been for the numerous wasted crosses and misses, the home side would have doubled or tripled their lead by the half time itself.
For Salgaocar, Manandeep had the best chance to get the equaliser in the match in the 34th minute as his shot on goal from way outside the box attracted a wonderful save from Amrinder Singh, who just had the ball tipped away.
The pace of the second half did slow down a bit but nothing could prevent the cheers from the 11431-strong supporters at the Kanteerava. As the minutes passed by, some of the Salgaocar players got a lot of boos from the home crowd, as the game turned a little more aggressive and the away side showing frustration in their faces.
The massive amount of ball possession by the home side however did not prevent Jackichand Singh from creating chances after chances with the start of the half, only to be thwarted by the resolute BFC defence.
The final five minutes of the game belonged the perfect icing on the cake for the home side. There was possibly the miss of the season by CK Vineeth in the 88th minute, but that did not prevent the morale of Bengaluru FC die down. Captain Marvel Sunil Chhetri made a wonderful run down the right flank and play a wonderful pass inside the box.
Former East Bengal midfielder Len Doungel was there to pop the ball inside the goal. That was it. History happened.