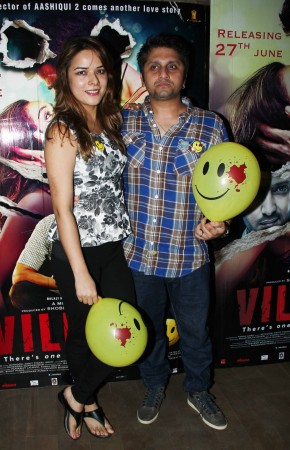 The special screening of "Hamari Adhuri Kahani" had a special guest. Mohit Suri's five-month-old daughter Devi attended the special screening of her father's film "Hamari Adhuri Kahani" along with other Bollywood stars.
The first photo of Mohit's daughter was tweeted by filmmaker Mahesh Bhatt.
"The Godess(Devi) journeys out of her cradle to watch the screening of Papa Mohit's love tale #HamariAdhuriKahani," Bhatt tweeted.
Mohit and wife Udita Goswami welcomed their first child in January. The good news was also shared by filmmaker Bhatt.
"Mohit Suri and Udita have received a gift from the Gods! A baby girl has just descended from the 'skies' into their life," he tweeted about it.
Mohit and actress Udita dated for nine years before tying the knot in 2013 in a private ceremony.
The director is currently busy with his upcoming release "Hamari Adhuri Kahani" based on Bhatt's parents love story. The film features Emraan Hashmi, Vidya Balan and Rajkummar Rao in lead roles.