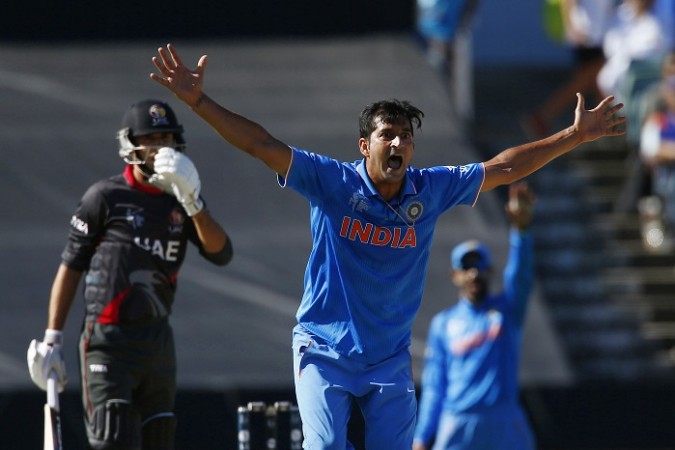 Mohit Sharma was one of India's biggest stars in the ICC Cricket World Cup 2015 in Australia and New Zealand as he took 13 wickets in the competition.
He was in fact lucky to have been a part of the Indian team, as he got a chance only after speedster Ishant Sharma was ruled out of the quadrennial event. Mohit grabbed the opportunity with both hands, as he played an important role as a first change bowler.
He has now thanked MS Dhoni for the chances he got.
"Really feel fortunate to be part of that squad and whatever chances I have got so far, it has been made possible by Mahi bhai (Dhoni). Anyone who is new to international cricket cannot do well without the support of his captain," PTI quoted Mohit Sharma as saying.
Dhoni has been a big influence on a number of Indian youngsters and Mohit is yet another one, who has lived up to his potential under the guidance and leadership of MS Dhoni.
"I feel lucky to playing under him in IPL and in the Indian team."
Apart from the Indian team, Mohit Sharma also plays under MS Dhoni in the Indian Premier League for Chennai Super Kings. Dhoni has huge faith in his ability and has also given him the ball during the slog overs, as Mohit Sharma uses his variations -- primarily his slower ball to good effect -- which helps him grab a number of wickets.
Mohit Sharma also spoke about his initial days with Chennai Super Kings and MS Dhoni.
"When I was new at Super Kings, he did not used to talk to me much. And when your captain is not talking to you, you often feel that you are doing something wrong. But I realised it was not like that when I eventually spoke to him," he explained.
"The first thing he told me that 'if I would have straightaway come to you and spoken, you would have felt the pressure of doing well. I know you have already done well in Ranji Trophy and you will do here as well'. For a beginner like me, those words coming from Mahi bhai gives you a huge push."
With Mohit Sharma having received plenty of guidance, it is time for him to come on his own and showcase his bowling talent in all formats of the game, not only in coloured clothing.
Mohit Sharma has been successful in the ODI, but he needs to work hard and get into the Test side as well. Consistent performances in coloured clothing will inch him closer to the elusive Test cap, which happens to be every cricketer's dream.