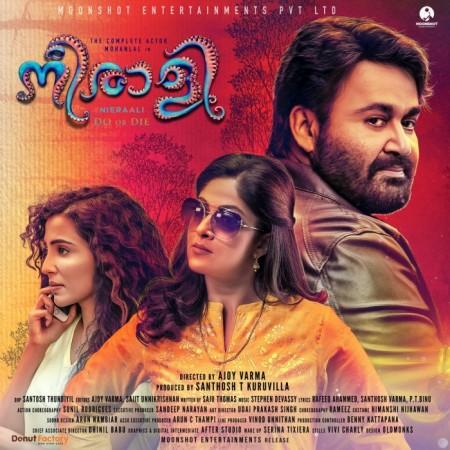 Mohanlal is celebrating his 58th birthday on 21st May, and the release of his much-awaited movie Neerali's trailer has come as a treat for his fans. Neerali, an action thriller directed by Ajoy Varma, is expected to hit the theatres on June 14.
The actor, popularly known as Lalettan, was last seen in the blockbuster movie Pulimurukan. His latest project, Neerali, has received positive reviews, mainly due to its plot. In Neerali, Mohanlal plays the role of a middle-aged man Sunny George, who goes through a suspense-filled journey while trying to reach his wife, played by Nadhiya. The journey tests Sunny's resilience as he faces one stressful situation after another.
Another highlight of the movie is the duet by Mohanlal and singer Shreya Ghoshal. The actor has earlier sung for movies like Kannezhuthi Pottum Thottu, Mahamudra, Chithram, Vishnu Lokham, Gandharvam, Spadikam, Ustad, Balettan, Udayon, Madambi, Bhramaram, and Run Baby Run.
Also, Nadhiya Moidu and the legendary Mollywood actor are pairing up after 33 years, and this has heightened their fans' interest in the movie.
Neerali is Mohanlal's first movie this year and is releasing under the banner of Moonshot entertainment. Santhosh T Kuruvila is producing the movie along with the co-producers - John Thomas and Mibu Jose Nettikkadan.
Ajoy Varma is making his debut in Malayalam cinema with Neerali and he has earlier worked as editor and director in Bollywood.
Saju Thomas has penned the screenplay while Stephen Devassy has composed the music. The movie has been shot in Mumbai, Pune and Sri Lankan.
Sai Kumar, Suraj Venjaramoodu, Dileesh Pothan, Anusree, Parvathy Nair and others form the ensemble cast.
Watch the trailer below: