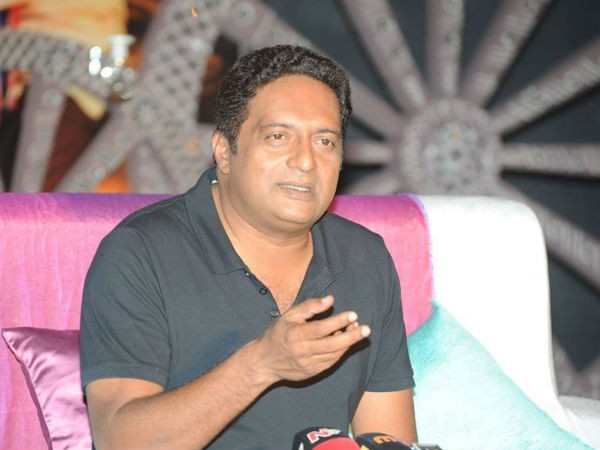 Prakash Raj has given a clarification over the rumours which claimed that he was part of a group which wanted to boycott the upcoming AMMA (Association of Malayalam Movie Artistes) Awards for inviting Mohanlal as the chief guest.
The versatile actor said, "There is a news doing rounds that I have signed a memorandum against Mohanlaji attending the Kerala State Awards function which is false. Neither I have signed nor I am aware of such memorandum."
Prakash Raj stated that he has issues with the decision taken by the AMMA related to Dileep. He admitted that the actors' guild took an insensitive stand, but he claimed that he has not been part of a group which signed a joint declaration against the Mollywood superstar, who is under attack from a section of film industry and society for revoking ban on rape-accused Dileep.
Over 100 artistes that include Rima Kallingal, Geetu Mohandas, Sruthi Hariharan, Siddharth Siva and MN Karassery among many others along with writers and activists raised objection as they signed a join declaration over inviting Mohanlal as the Chief Guest without mentioning his name.
"The State Film Award is the greatest honour that an artist gets in Kerala. Hence, it should be presented to the winners in an atmosphere filled with cultural perfection. The Chief Minister of the state should give it in a peaceful atmosphere to the winner in the presence of the Cultural Minister. It is not fair to bring in a celebrity guest, overshadowing the Chief Minister and the winners. This will be like belittling the winners," Indian Express quoted the press release of the protestors.
Mohanlal was unanimously elected the new President of AMMA and he replaced popular comedian Innocent, who was at the helm for the past 18 years. In its annual general body meeting, AMMA revoked the suspension of Dileep, on the grounds that it was done by a hurriedly-called executive meeting which was against the laws of AMMA.
The AMMA decision to reinstate Dileep did not go down well with many leading actresses from Women in Cinema Collective (WCC). Dileep's former wife Manju Warrier, Parvathy, Remya Nambisan and Rima Kallingal of the WCC raised voice against the decision and resigned from their membership in protest against it.