Mohammed Shami seems to have defied direct instructions from the BCCI as he has bowled more than the stipulated 15 overs in the ongoing Ranji Trophy match between Bengal and Kerala at the Eden Gardens.
The BCCI's stipulation is in coherence with Shami's injury record and they want to manage his workload before he leaves for the four-match Test series in Australia beginning on December 6 at Adelaide.
Shami is one of the leading pace bowlers for India in the longest format of the game and has been the captain's trump card for reverse swing bowling since the pacer's Test Debut in 2013.
Shami, who is a part of India's Test squad, had recently shown interest in playing for his state side, Bengal before leaving for the Australia tour and BCCI allowed him to play one match on the condition that he doesn't bowl more than 15 overs per innings.
Reacting to this, Bengal skipper Manoj Tiwary had said that he respects the decision because nation always comes first.
"India obviously comes first and we have to respect what the BCCI has said," Tiwary said after the selection committee meeting at the CAB on Friday.
But, now according to Cricbuzz's coverage of the match, it has come across that Shami has defied what seems to have been standing instructions from the BCCI by bowling more than his stipulated quota of overs in the first innings.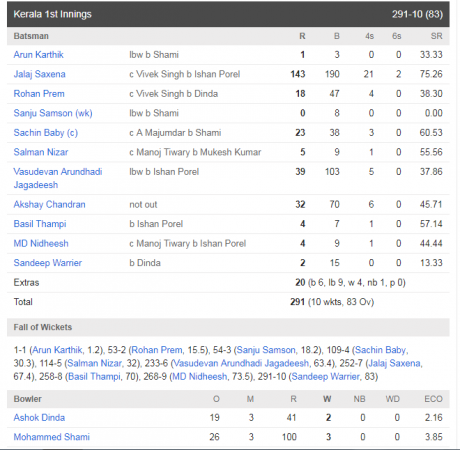 Shami has picked up 33 wickets in 9 tests for India in 2018 and is the country's highest wicket-taker this year.