Liverpool star Mohamed Salah has hit back at Real Madrid captain Sergio Ramos for the latter's comments on whether the Egyptian forward could have played on with an injured shoulder during the final of Champions League 2017/18 in Kiev last month.
Ramos had faced flak from football fans, who believed the Real Madrid defender intentionally made a rough challenge to injure Salah. Notably, the Liverpool forward suffered what seemed a severe shoulder injury and walked off the pitch in tears, leaving his World Cup participation in doubt.
Salah's injury titled the final in favour of Real, who went on to beat Liverpool 3-0 to win their third straight Champions League title.
Ramos had ridiculed the entire episode, saying it was "blown out of proportion" and that Salah could have continued had he taken an injection. The Spanish international also revealed he had "exchanged messages" with the Reds' top-scorer and that he was "pretty good".
"Ramos' comments? It's funny. My comment is that it's always okay when the one who made you cry first, then makes you laugh. Maybe he could also tell me if I'm going to be ready for the World Cup?" Salah told Marca on Saturday, June 9.
The Egyptian added: "He sent me a message, but I never told him it was 'okay.' Was it a normal challenge? I don't know. Maybe?"
Calling the injury in Kiev one of the worst moments of his career, Salah also said had fretted over his chances of making a World Cup debut after he sunk to the turf in pain.
Salah hopes to play Egypt's World Cup opener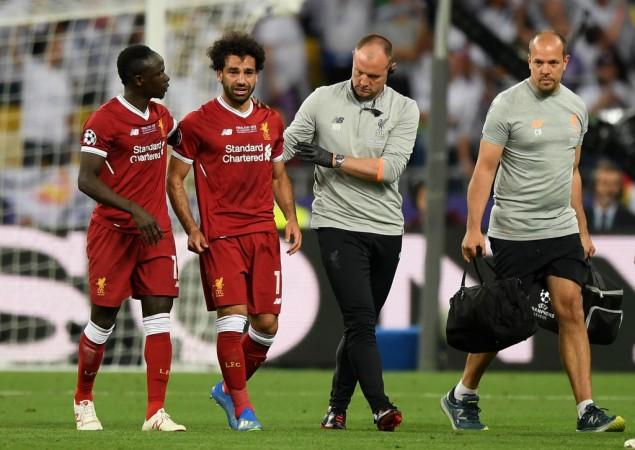 Nonetheless, in what will come as a positive boost for Egypt football fans, Salah has revealed he is feeling better and that he hopes to get fit in time ahead of the upcoming quadrennial global spectacle, starting June 14 in Russia.
"When I fell to the ground, I had a mixture of physical pain and a lot of worry. Also anger and sadness for not being able to continue playing the Champions League final. Moments later, I also thought about the possibility of not playing in the World Cup and that was a devastating thought," Salah said.
"Now I'm better. I hope to play the first game against Uruguay, but that will depend on how I feel when it approaches.
Heaping praise on coach Hector Cuper, Salah added: ""I think we have a great team and a great coach [Hector Cuper], we want to qualify for the next round and do well. [My goal is] Just to help the team to qualify and score goals, but mainly try to help the team do better in matches."
Notably, Egypt have qualified for the World Cup finals for the first time since 1990. Cuper's side will open their campaign against their Group A opponents Uruguay on June 15 at Central Stadium, Yekaterinburg.
They will go on to face hosts Russia on June 19 before their last group-stage match against Saudi Arabia (June 25).