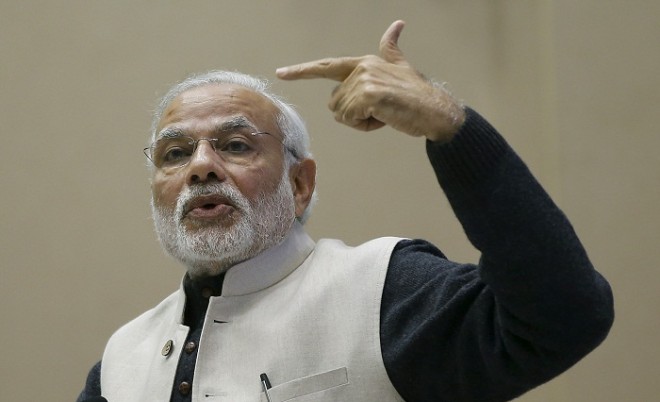 In what can be seen as a major shift in its Kashmir policy, the Narendra Modi government has said that the Hurriyat Conference (separatist) leaders are free to meet the representatives of any country in India. The Indian government had earlier cancelled the Foreign Secretary-level talks with Pakistan when the Pakistan's High Commissioner, Abdul Basit, met Kashmiri separatist leaders.
The Modi government has been frowning upon the Pakistan-Hurriyat leaders meeting for last two years.
In August 2015, the National Security advisors' meeting between India and Pakistan got derailed, because the Modi government expressed its resentment towards Pakistan officials meeting separatist leaders. The government had ordered house arrest of Hurriyat leaders in Srinagar to prevent them from reaching New Delhi, the Times of India reported.
However, on April 28, the Minister of State for External Affairs, VK Singh, in a written reply in Parliament said since the entire state of Jammu and Kashmir is an integral part of the Union of India and these so-called Kashmiri 'leaders' are Indian citizens, there is no bar on their meetings with representatives of any country in India.
Singh's reply pertained to a query regarding the presence of Hurriyat leaders at Pakistan Day (2016) celebrations.
He, however, ruled out the participation of a third party in the Indo-Pakistan dialogue process. "India has consistently maintained that there is no role for a third party in the bilateral dialogue between India and Pakistan as per the Simla Agreement and the Lahore Declaration. India's displeasure at Pakistan's attempts to interfere in India's internal affairs has been repeatedly conveyed to Pakistan," Singh said.
After many hiccups, India's Foreign Secretary, S Jaishankar, and his Pakistani counterpart, Aizaz Ahmed Chaudhry, met in New Delhi on April 26 with both parties maintaining their stands on terrorism and Kashmir issue, respectively. While Pakistan brought up the Jammu and Kashmir dispute as the "core issue" during the talks, India raised the issue of the Pathankot attack and its investigation as well as the 26/11 Mumbai attack trial.
The separatist camp in Kashmir is currently battling divisions with hardline leader, Syed Ali Shah Geelani, heading a faction of the All Parties Hurriyat Conference (APHC) while the moderate faction is being headed by Mirwaiz Umar Farooq.
Modi's Bharatiya Janata Party (BJP) is currently in alliance with the Peoples Democratic Party (PDP) in the state. PDP has been reportedly pressing the Modi government for a dialogue with Pakistan, which involves all the stakeholders, including the Hurriyat Conference.