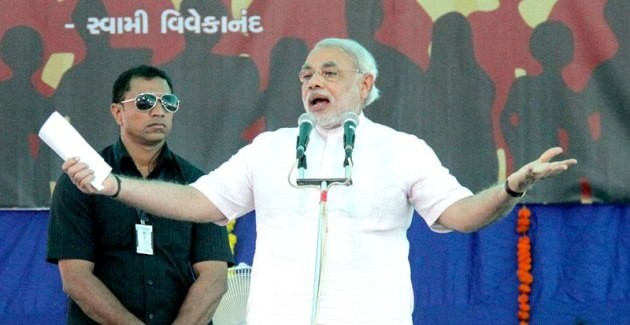 The Gujarat Congress on Tuesday said it would seek a probe by the Election Commission into the source of funding for Chief Minister Narendra Modi's hi-tech 3D projection campaign.
On Sunday, Modi unveiled a 3D holographic telecast for his election campaign, making him the first politician in India to pick up the latest technology to reach out to the masses. The telecast was shown simultaneously in Ahmedabad, Rajkot, Surat and Vadodara, where specially erected stages were set up to display his images.
According to the IBN Live, state Congress president Arjun Modhwadia said that each projection cost ₹5 crore and the chief minister had planned to use it in all the 182 state constituencies.
He alleged that the expenditure for the campaign came through the state-BJP's 'dhan dan' programme, which collected over ₹500 crore from the citizens.
Claiming that the publicity could be put to better use, Modhwadia said, "The money spent behind this campaign can be used for providing education to students, serve those who are suffering from serious diseases or help the farmers."
Sensing an opportunity, the other Opposition parties also came down heavily on the funding for the telecasts.
Former Gujarat minister and Modi's ex-aide, Gordhan Zadaphia, said, "Hundreds of farmers have committed suicide in the state under Modi's rule. Compensation could have been paid to their families, or to provide better healthcare services in rural areas."
Former Chief Minister Keshubhai Patel also flayed Modi for the wasteful expenditures, which he claimed worked out to a total of ₹216 crore, Press Trust of India reported.
Though the Congress decided to move the Election Commission for an investigation, the party along with the Modi-led BJP is under scrutiny after submitting to the body the figures of the expenses in their respective 2007 assembly poll campaigns, which were surprisingly low.
According to the Hindustan Times, the BJP claimed to have spent a total of ₹10.6 crore while the Congress's expenditures tallied to ₹15.58 crore.
Seeing the figures, an official of the Election Commission said, "It is absolutely ridiculous to believe that both party spent merely Rs. 26 crore during 2007 assembly polls. The figures submitted by the parties are an eyewash."
The official added that the commission had no authority to check the actual figures.