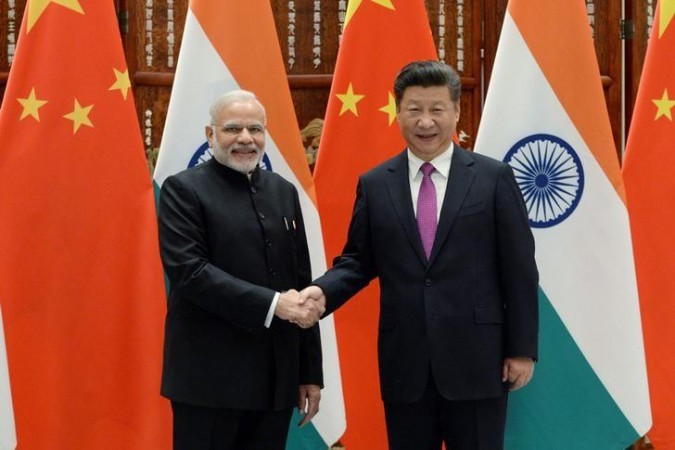 Chinese President Xi Jinpinghas landed at Chennai Airport on Friday ahead of his 2nd informal summit with Indian Prime Minister Narendra Modi in Mahabalipuram, a sleepy, seaside town on the outskirts of the city.
The leaders will discuss bilateral issues and forging a partnership between the two countries.
A statement by the Ministry of External Affairs released ahead of the impending visit said, "The forthcoming Chennai Informal Summit will provide an opportunity for the two leaders to continue their discussions on overarching issues of bilateral, regional and global importance and to exchange views on deepening the India-China Closer Development Partnership."
Just before Xi's visit to India, Pakistan Prime Minister Imran Kahn called on him earlier this week in China and the duo released a joint statement. The statement said that China, which calls itself Pakistan's fair-weather friend, is paying close attention to the developments in the area. It asked India and Pakistan to resolve the matter peacefully.
Here are the Live updates on the second informal summit between the leaders:
Live Updates
2019-10-1114:26 (IST)
WATCH | President Xi Jinping arrives at Chennai Airport to an Indian Cultural show
The Chinese President arrived at Chennai airport to be welcomed by Tamil Nadu governor Banwarilal Purohit, state chief minister E Palaniswami and Deputy Chief Minister O Panneerselvam.
#WATCH Tamil Nadu: Chinese President Xi Jinping arrives in Chennai, received by Governor Banwarilal Purohit. The second informal summit between Prime Minister Narendra Modi and President Xi will begin in Mahabalipuram today. pic.twitter.com/rXoLzvTRyG

— ANI (@ANI) October 11, 2019
2019-10-1113:59 (IST)
Chinese President lands at Chennai aiport
President Xi Jinping has landed at the Chennai Airport ahead of the informal summit with Indian PM Modi. He is welcomed by a cultural performance organised by Kalakshetra, a famous dance school in Chennai.
2019-10-1113:57 (IST)
Chinese President to have Poorna Kumbham accorded to him at Chennai Airport
Priests from the Mylapore Kapaleshwar Temple have arrived at the Chennai Airport to perform Poorna Kumbahm for Xi Jinping. This is an auspicious ritual and a Chinese translator will be present to explain the significance of the ritual to the Chinese president.
2019-10-1113:42 (IST)
School students, members of Chinese community gather otuside ITC Grand Chola Hotel
Tamil Nadu: Members of Chinese community, school children and other people gather outside ITC Grand Chola Hotel, in Chennai, where Chinese President Xi Jinping will arrive later today. pic.twitter.com/qvxvSLcBc2

— ANI (@ANI) October 11, 2019
2019-10-1112:41 (IST)
WATCH | Modi arraives in Mammalapuram in chopper
2019-10-1112:40 (IST)
5 Tibetans arrested for protesting outside hotel Xi Jinping is staying in Chennai
Five Tibetans were arrested on Friday morning for protesting outside the ITC Grand Chola in Chennai, where Chinese President Xi Jinping will be staying for one night on Friday.
2019-10-1111:47 (IST)
President Jinping to leave for Nepal on Saturday afternoon
President Jinping will have dinner with PM Modi on Friday night and the duo will meet again on Saturday after which the President will leave depart for Nepal in the afternoon.
This is the second informal summit between Modi and Jinping. The first one was held in Wuhan after the Dokhlam crisis.
2019-10-1111:42 (IST)
Modi says he is glad that Tamil Nadu will be hosting the informal summit
Landed in Chennai.

I am happy to be in the great land of Tamil Nadu, known for its wonderful culture and hospitality.

It is gladdening that Tamil Nadu will host President Xi Jinping. May this Informal Summit further strengthen ties between India and China. pic.twitter.com/IvsTnoGVdW

— Narendra Modi (@narendramodi) October 11, 2019
2019-10-1111:23 (IST)
PM Modi arrives in Chennai; Jinping to arrive at 2 PM IST
Prime Minister Modi's flight landed at Chennai International Airport and was received by Tamil Nadu chief minister E Palaniswamy.
Reports have stated that the Chinese President will land in Chennai at 2 PM after which he will travel to Mahabalipuram by road. He will then visit Arjuna's Penance, Panch Rathas and Shore Temple.
2019-10-1111:01 (IST)
China optimistic of informal meeting in Mahabalipuram
"Now the solid ground has been laid. With the joint efforts of the two sides, President Xi's visit to India will be a full success and set the tone and direction for further growth of bilateral ties and lead to new progress and fruitful results in exchange of cooperation between the two sides," he said. "The meeting will once again send a consistent message of China and India to the whole world and inject stability and positive energy to the world that is full of uncertainty," Chinese Vice Foreign Minister Luo Zhaohui told media on Wednesday.
2019-10-1110:51 (IST)
'GoBackModi' trends on Twitter ahead of the meeting
The hashtag 'GoBackModi' is trending on social media ahead of the informal meeting on October 11 and 12 in Mahabalipuram. This hashtag trends everytime the Indian prime minister makes a visit to Tamil Nadu.
2019-10-1110:48 (IST)
Here are some of the talking points during the informal summit
There would be no agreements of Memorandum of Understanding (MoUs) signed on October 11 and 12 due to the informal nature of the meeting.
The meeting is focussed on strengthening the countries' partnership. The leaders will discuss schedules for the upcoming Special Representative Talks.
The Chinese President will be accompanied by his National Security Advisor and his Foreign Minister Wang Yi. They will be meeting their Indian counterparts, External Affairs Minister S Jaishankar and India's NSA Ajit Doval.