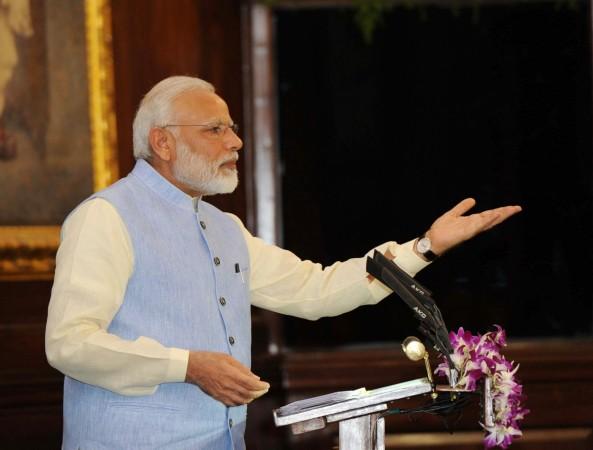 While referring to sleeveless jackets gifted by PM Narendra Modi as "Modi jacket" on October 31, South Korean President Moon Jae-in has opened floodgates for a social media war over his usage of words.
Moon Jae-in took to Twitter to thank PM Modi for his gesture and wrote, "During my visit to India, I had told the Prime Minister @narendramodi that he looked great in those vests, and he duly sent them over, all meticulously tailored to my size. I would like to thank him for this kind gesture."
However, it was Moon Jae-in's other tweet that had social media buzzing when he called it "Modi vest". He tweeted, "Prime Minister @narendramodi of India sent me some gorgeous garments. These are modernized versions of traditional Indian costume, known as the 'Modi Vest', that can also be worn easily in Korea. They fit perfectly."
Following this, several Twitter users have started a debate on this whole controversy around the usage of words. A few users pointed out that the first PM of India, Jawaharlal Nehru used to wear such jackets and hence, it is called "Nehru Jacket."
Another Twitter user corroborated the stance and wrote, "Excellent. But I am afraid, I must correct the name - this is known as the Nehru jacket, something that has not changed even though Mr. Modi has put his name on it."
While many also opined that although it was called Nehru jacket, it is indeed PM Modi who made the vest more popular.
A social media user wrote, "Nehru jacket my foot. We call it as #ModiJacket . Modiji made it famous. Only after people saw Modi wearing this it started trending all over India. I would prefer calling it #ModiJacket than calling #NehruJacket."
Modi's designer speaks out
However, Bipin Chauhan, managing director of JadeBlue Lifestyle India and also the designer of these jackets, said it is now called "Modi Jackets."
Chauhan, who has been designing Modi's attire since 1989, added that jackets which were worn by Nehru and Sardar Patel were 'bandhgala' (closed neck) jackets but one that he makes for Modi is longer and more comfortable in fit. Nehru jackets didn't have many colours and they were available only in off-white and black shades while Modi jackets come in many shades.
Chauhan added that before 2014, these jackets were not very popular but when PM Modi started wearing them it became a rage across the nation.
"In the past, these jackets, worn by Nehru and Sardar, were considered premium apparel for the elite. Now Modi-ji has popularised them among the masses," Chauhan was quoted as saying by National Herald.
During my visit to India, I had told the Prime Minister @narendramodi that he looked great in those vests, and he duly sent them over, all meticulously tailored to my size. I would like to thank him for this kind gesture. pic.twitter.com/wRgekJSW16

— 문재인 (@moonriver365) October 31, 2018