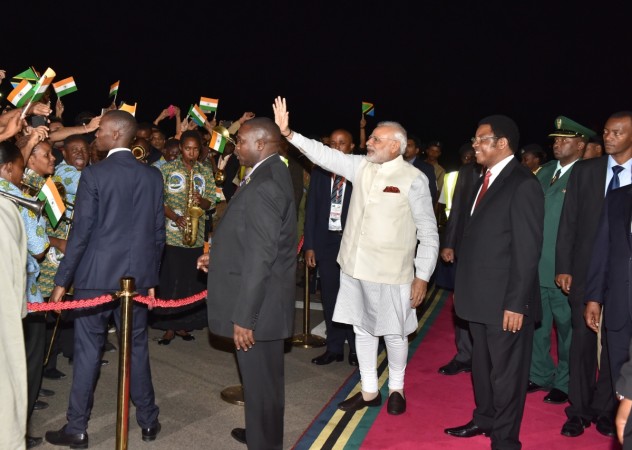 Prime Minister Narendra Modi who arrived late last night in Tanzania was received by Tanzanian Prime minister Kassim Majaliwa. "From Durban to Dar es Salaam" Tweeted Vikas Swarup, spokesperson for the ministry of external affairs.
Modi who is now at Tête-à -tête Room in the state house Dar es Salaam, is expected to begin talks with Tanzanian President Dr John Magufuli to better the bilateral relations between the two countries.
A delegation-level talk is expected to commence in the Cabinet Room, followed by signing and exchange of agreements at the State Room of the State House and a joint press statement.
Follow live updates about Modi's visit to Tanzania here:
3:30 p.m.: Prime Minister Modi interacts with members of Indian Diaspora.
3:00 p.m.: Prime Minister Modi meets the Solar Mamas who are trained in solar electrification and entrepreneurial skills such as bee keeping and tailoring.
2:30 p.m.: The following agreements have been concluded between India and Tanzania:
MoU on water resource management and development.
MoU for establishment of vocational training centre at Zanzibar.
MoU on visa waiver for diplomatic/official passport holders.
Agreement between national small Industries corporation of India and small industries development organisation.
LOC of US 92 million $ for rehabilitation and improvement of Zanzibar's water supply system.
1:30 p.m.: Watch the live feed to see the joint statement.
1 p.m.: Delegation level talks have begun between Tanzanian President Dr.John Magufuli and Indian Prime Minister Narendera Modi.
12:35 p.m.: Prime Minister Modi impresses by playing a traditional percussion musical instrument with Tanzanian President Dr. John Magufuli
12:00p.m.: Prime Minister Modi was greeted by enthusiastic Tanzanians on his way to the State House.