Even as reports claim that the recent clashes during Ram Navami in Bihar have taken a toll on the BJP-JD(U) alliance in the north Indian state, prime minister Narendra Modi firmly refuted all such speculation during a function to commemorate Mahatma Gandhi's Champaran Satyagraha of 1917.
Modi also lauded Bihar chief minister Nitish Kumar for being a "patient and able" administrator, owing to his handling of the communal violence in 10 districts of the state last month.
What caused the rift between JD(U) and BJP in Bihar
On March 17, a procession was organized by Bharatiya Navvarsh Jagran Samiti on the eve of Ram Navami in Bihar's Bhagalpur district. The procession that comprised BJP, Rashtriya Swayamsevak Sangh (RSS) and Bajrang Dal workers was led by Union minister Ashwini Choubey's son Arijit Shashwat.
The rally, however, was not sanctioned by the local administration. As the procession was also taken out in a Muslim-dominated area called Medni Chowk, it led to a Hindu-Muslim clash, injuring around 14 people.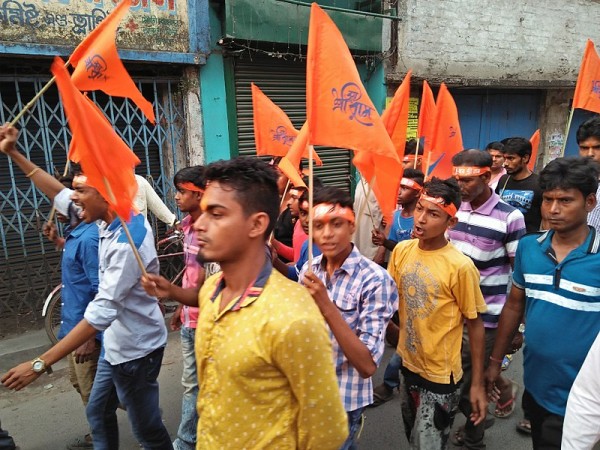 Shashwat, who was accused of raising provocative slogans, was sent to jail and Kumar publicly said that Choubey's son was out of line and that action would be taken against him.
Nearly 200 people, including 20 BJP leaders, were arrested owing to the CM's direction to detain wrongdoers irrespective of their political affiliation.
It was speculated that the arrests — especially that of Shashwat — did not go down well with BJP and had led to a rift between the two ruling parties in the state.
Modi trashes all speculation about BJP-JD(U) friction
However, Modi took it into his own hands to end the rumors and praised Kumar's work toward maintaining peace and stability in Bihar. "To make a new India we have to get rid of ills... we have to free India from communal tensions and communalism," The Times of India quoted the PM as saying.
"The manner in which Kumar is fighting Bihar's corrupt and anti-social elements is not easy," he added.
Modi slams opposition in Bihar
The PM even took a dig at the opposition parties in Bihar, who had demanded immediate action against the accused in the Ram Navami violence, and slammed them for pitting "people against people."
"While the government is working towards uniting people and their hearts, some opponents are working towards breaking up society. They feel that if the poor are empowered, it would no longer be possible to mislead them with lies," PM Modi explained.