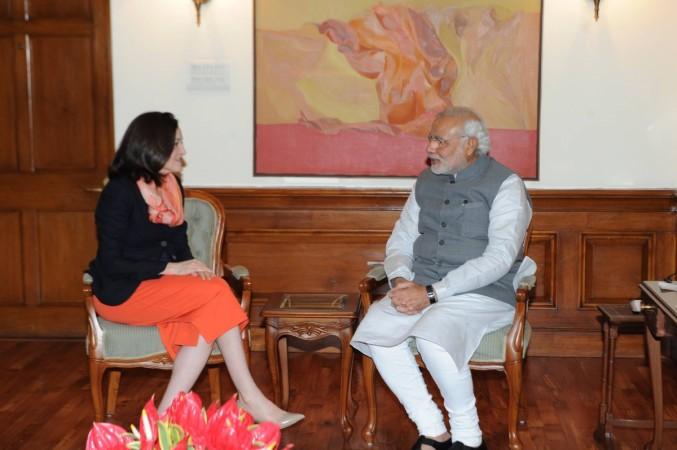 Prime Minister Narendra Modi, who met with Facebook Chief Operating Officer Sheryl Sandberg on Thursday, said that the social media platform could be used for a range of purposes, from governance to better interaction between the government and the citizens, as well as to attract tourists.
Modi, who has 189 lakh followers on Facebook making him the second-most followed political leader on the social media platform, used the social networking site itself to talk about his meeting with Sandberg, who is in India for a five-day visit.
"(I) Had a very fruitful meeting with Sheryl Sandberg. She pointed out that India is a very important country for Facebook, considering the high number of active Facebook users in India," Modi posted on his page.
Sandberg had said that India, which is Facebook's second largest market with a user base of 100 million people, had another billion potential users.
Modi is known to have made optimal use of social media platforms such as Facebook to propel his election campaigning, which is said to have given him a huge leverage with the country's youth. In his meeting with the Facebook COO, Modi expressed his idea of how the medium can be put to constructive use by the government.
"Being an avid user of social media myself, I talked about ways through which a platform such as Facebook can be used for governance and better interaction between the people and governments. I also talked about how Facebook can be used to bring more tourists to India," he wrote.
With cleanliness in the country being high on his agenda, Modi said he had sought advice from Sandberg on how Facebook could be used for the purpose. "We intend to commemorate Mahatma Gandhi's 150th birth anniversary year with a special focus on cleanliness and I spoke to Ms. Sandberg on how Facebook can assist us in this endeavour," he said through his post.
Sandberg herself took to the medium to hail Modi for his use of Facebook and to talk about how digital diplomacy can influence dialogue.
"Meeting Prime Minister Modi gave me the opportunity to express my personal appreciation to him for making the education of girls and women a priority as equal opportunity is essential for strengthening all economies and creating a just world," Sandberg wrote in her post.
"We were glad to be able to congratulate him on his election, and on his unprecedented use of Facebook to connect with voters. He told us how he believes that direct communication with people all over the world is critical to effective governance and he plans to continue using Facebook and other social media to communicate with the people of India and the world."
Speaking about digital diplomacy, Sandberg said that it had the potential to change national and international dialogues. "That is why he (Modi) plans to champion the free and open internet on the world stage," she added.
Through her meetings and media interactions over the last four days, Sandberg has consistently stressed on the use of Facebook for social and economic growth. "India is important to the global economy, as well as to Facebook, and we look forward to working together on internet.org to bring the next billion people online. Access = opportunity – creating more economic, social and political opportunities for the people of India," Sandberg said in her post.