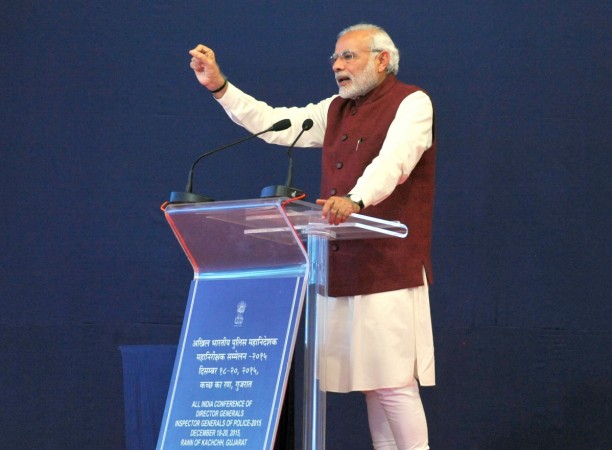 Prime Minister Narendra Modi will Tuesday, April 5, launch the "Stand up India" initiative in Sector 62, Noida, in order to "promote entrepreneurship" among people from Scheduled Castes (SCs) and Scheduled Tribes (STs), and women in general, according to an official statement released by the Prime Minister's Office (PMO).
The scheme reportedly envisions provision of loans worth Rs. 10 lakh to Rs. 1 crore, including the working capital, to SC, ST and women entrepreneurs, with every branch of every scheduled commercial bank expected to facilitate at least two such projects for every category of entrepreneurs.
The features of the initiative are also expected to include provision of a RuPay debit card to the women entrepreneurs with which they can draw the working capital, improving and developing their credit history, a refinance window through Small Industries Development Bank of India (SIDBI) with an initial amount of Rs. 10,000 crore, the creation of a corpus of Rs. 5,000 crore for credit guarantee through the National Credit Guarantee Trustee Company, handholding support for borrowers, and a web portal for online registration and support services, according to the official statement. This portal will also be launched by Modi Tuesday.
The statement also said SIDBI would lead the process, which would involve industry bodies likes the Pune-based Dalit Indian Chamber of Commerce and Industry and various other sector-specific institutions.
Interestingly, 5,100 e-rickshaws will reportedly be distributed by Bhartiya Micro Credit (BMC) under the Pradhan Mantri Mudra Yojana as part of Tuesday's launch event. Pradhan Matri Jan Dhan Yojna, Pradhan Mantri Suraksha Yojana, Pradhan Mantri Jivan Jyoti Yojana, Atal Pension Yojana and other eight prominent prime minister schemes will cover the recipients of these e-rickshaws, said the official statement.
These recipients, including 150 women, have been trained and certified by the National Skill Development Corporation, and their services may be availed through the Ola app while payments can be made through Freecharge, which the release says will integrate this with the Digital India initiative.
Charging and service stations for these e-rickshaws will also be set up, leading to more entrepreneurship opportunities, which the statement said would include this initiative under Stand up India, which itself is part of the "Start up India Stand up India" announced by Modi in his Independence Day speech, delivered Aug. 15, 2015.