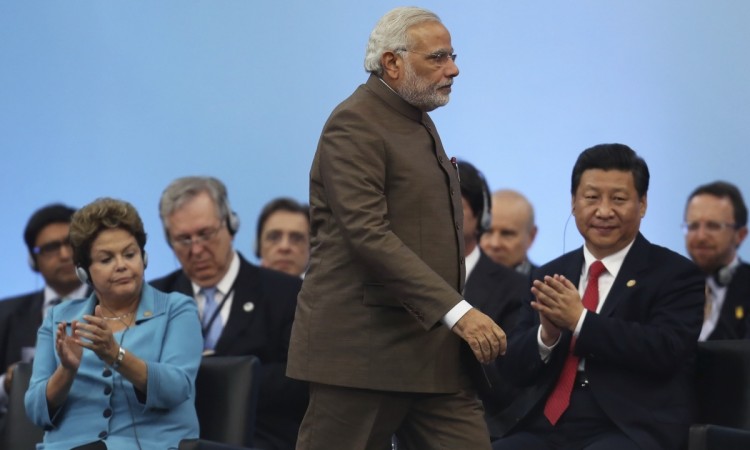 In less than two months in office, Prime Minister Narendra Modi has met with numerous foreign leaders, some of them abroad and many who called on him in New Delhi. His diplomatic prowess has now found praise in the United States Congress, with top US officials, political experts and lawmakers lauding him for his diplomatic decision, especially among SAARC countries.
Here is a look at some of Modi's major diplomatic moves:
SAARC: Modi struck his first diplomatic coup when he decided to invite leaders of the South Asian Association for Regional Cooperation (SAARC), including Pakistan Prime Minister Nawaz Sharif, for his swearing-in ceremony on 26 May. When all leaders accepted the invitation and attended the ceremony, they created one of the most historic occasions in recent times.
His decision has been termed as a masterstroke, and came for praise by United States officials for its ability to improve stability in the region.
"When Prime Minister Modi invited the Prime Minister of Pakistan, Nawaz Sharif, and the leaders of South Asia Association for Regional Cooperation (SAARC) countries to his inauguration ceremony, he demonstrated his firm commitment to strengthening India's ties with its immediate region," Assistant Secretary of State for South and Central Asia, Nisha Desai Biswal, said at a Congressional hearing, according to PTI.
"That's good news for India and the region, and greatly beneficial to global stability," she said.
Pakistan: Modi and Sharif started their ties on the right note, quite literally if you look at their exchange of letters, with what has famously come to be known as the "Sari and Shawl Diplomacy."
Frank G Wisner, former US Ambassador to India, noted that Modi wanted India to "find its own way forward with Pakistan."
"He and his colleagues do not seek American mediation nor direct involvement. Indians believe they can find their own way forward with Pakistan and that American involvement will complicate the ability of the two governments to manage their differences," he was quoted saying by PTI.
"Instead the Indian government looks to us for encouragement and with respect to Pakistan, the Indians expect us to be clear what steps we will take to nudge Pakistan towards a peaceful relationship with India," Wisner further said.
China: India's shaky relations with China found some stability after Modi came to power, and several issues of trade and border conflict were brought up during his meet with Chinese Foreign Minister Wang Yi last month and even during his recent meet with Chinese President Xi Jinping.
Political experts are positive about Modi's approach to the China question.
"Modi is likely to seek a productive dynamic with China, but on the campaign trail he showed that he will be willing to stand up to China by criticising Beijing's expansionist tendencies," said Vikram Singh, Vice-President, National Security and International Policy Centre for American Progress.
BRICS: Modi attended the 6th BRICS Summit held in Brazil over the last two days that turned out to be the most consequential meet between the five nations so far, with the announcements of the New Development Bank and the Contingent Reserve Arrangement.
Modi's diplomatic win came in the form of India getting first term of presidency of the Bank for six years. However, there was a downturn as well, with China bagging the headquarters away from New Delhi to Shanghai.
Brazil and South America: Not willing to fall behind Russia and China in establishing ties in Latin America, Modi has already finalised three agreements with Brazil over environment and satellite communication, and is working to establish stronger ties with other countries in the region too.
Russia: Calling Russia India's all-weather friend, Modi sought to further cement the long-running Indo-Russian ties. He even invited Russian President Vladimir Putin to Kudankulam, which shows his keenness to strike more nuclear deals with Russia.
United States: While Modi is yet to make his first visit to the US, ever since he took over as Prime Minister, which is due in September, the US government has been trying hard to ensure the past instance of a visa ban on Modi doesn't mar the relations.
US Senator John McCain has called for Modi to address the joint Session of the Congress in Washington, and though his visit to India was bogged down by the NSA Snoopgate issue, the two leaders spoke of building a strategic partnership.
Bhutan: Modi's visit to Bhutan in June marked his first trip abroad after he took charge at the centre, and though the economic and political significance may not be as high with Bhutan, his address in the Joint session of Bhutan's parliament and the rare applause he received from members established a good start to his foreign visits.