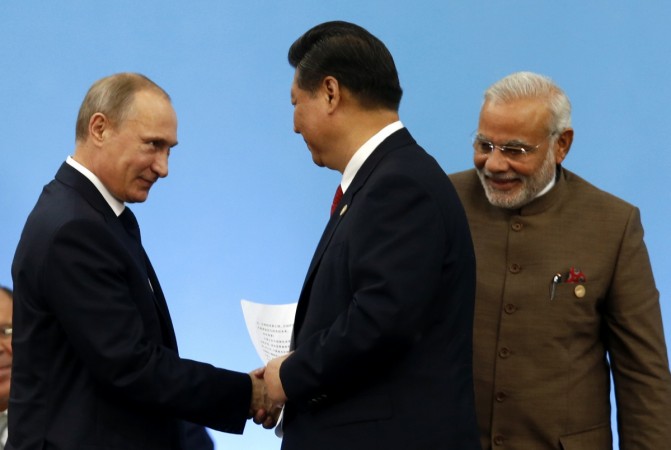 China is doing it, Russia has been doing it, and now, India is gearing up too. With China and Russia seeking strategic alliances with countries in Latin America, India too is pushing its file, with Modi on Wednesday finalizing three bilateral agreements with Brazil and also pushing for multi-dimensional ties with the other South American countries in his meet with the leaders.
Modi met Brazilian President Dilma Rousseff in Brasilia on Wednesday on the second day of the 6th BRICS Summit, and the two countries signed agreements on cooperation in the field of environment, consular and mobility issues as well as setting up a Brazilian earth station that will receive data from Indian satellites.
As per the Memorandum of Understating (MoU) signed between the two nations on cooperation in environment, the two have agreed to jointly fight climate change, and to work towards afforestation, water conservation and air and water quality management.
By deciding to establish a bilateral mechanism for consultation on bilateral consular and mobility issues, the two nations have agreed to ease movement of citizens between the two countries. And thirdly, the two nations have also agreed to extend cooperation in the outer space, through a Brazilian earth station that will receive and process data from the Indian Remote Sensing (IRS) satellites.
While these three agreements stand to strengthen India-Brazil ties, Modi is also looking at South America as a whole to establish stronger ties, as was evident by his statement during his meeting with presidents of the Latin nations. Modi evoked writers such as Gabriel Garcia Marquez and Rabindranath Tagore to strike a chord with the leaders, while also citing his interaction with their representatives in his stint as Gujarat's Chief Minister.
His focus was essentially on increasing investments. "There is a growing presence, of Indian investors in South America. It is, however, still well below potential. From hydrocarbons to pharma, textiles to leather, engineering goods to automobiles; the range of opportunities is enormous," Modi said in his statement.
He also pushed for greater partnership on Information Technology and education. "Almost 250 students from South America, have been taking courses in India every year under our International Technical and Economic Cooperation program. I however believe, that this is not enough. We intend to substantially increase the same," he said.
"To share India's expertise in Information Technology, we will establish Centres of Excellence in Information Technology, in South American countries."
However, it is not just India that is looking to bolster its Latin ties on the sidelines of the BRICS Summit. China too has been working to promote a "strategic alliance", as reported by Global Post.
China and leaders of the Community of Latin American and Caribbean States, or CELAC, will meet on Thursday to take it further. China is also set to host the first-ever summit of the foreign ministers of China and the CELAC countries in Beijing later this year. Chinese President Xi Jinping is also slated to visit Argentina and Venezuela in the next few days for energy-related discussions.
Russia too seems to be showing increasing interest in the region, popularly referred to as 'America's backyard'. Russian Foreign Minister Sergey Lavrov had embarked on a Latin American diplomatic tour earlier this year, according to Al Jazeera.
The Russian military is also looking to set up bases in several South American nations, and Russia has started to send navy ships and long-range bombers to the region for the first time in years, The Hill reported.