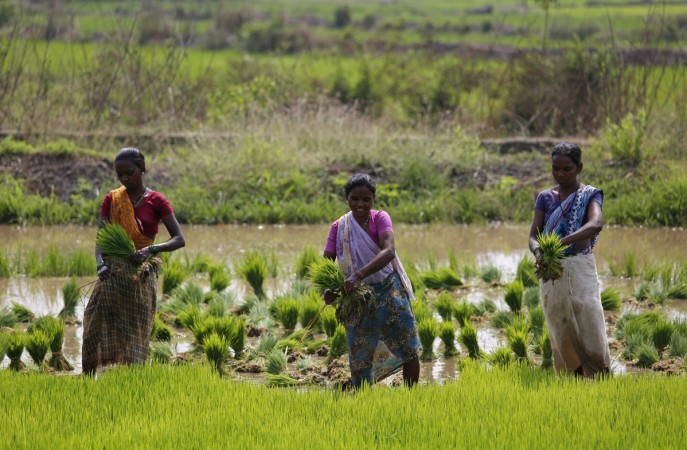 The Narendra Modi government's decision to raise the minimum support prices (MSP) for the 2016-17 kharif crop season "modestly" is being seen as sticking to sound economic policies despite the temptation to resort to populism in view of the forthcoming elections in agrarian states such as Uttar Pradesh.
The increase in MSP is 4.3 percent for rice (paddy) and in the range of 7.7 to 9.2 percent for pulses for the current financial year's kharif crop season, according to an official statement issued by the government on Wednesday. The increases would be effective from Oct. 1, 2016.
"Specifically, MSPs for paddy for which sowing/ planting begins in June, was raised by 4.3 percent compared to 3.7 percent in 2015 and 3.8 percent year before. This is lower than the 12 percent hike in 2012-13," Radhika Rao, economist, group research, DBS Bank, said in a note on Thursday.
However, there does remain a flip side to the government's move as far as inflation is concerned, said Rao.
"We see this as positive for inflation outlook this year, but the marginally faster pace of increase than (the) year before suggests limited downside risks to inflation as well," she said in her note.
Food price inflation rose to 6.32 percent in April from 5.21 percent in March.
Yet, the increase is seen as an affirmation of the government's committment to stay away from populist measures, especially in the context of assembly elections to agrarian states. Uttar Pradesh goes to polls early next year. The BJP is eyeing a comeback in the state where the Samajwadi Party is currently in power.
"The Minimum Support Prices (MSPs) announced for the kharif season for FY2017 reflects the government's resolve to deliver prudent economic policies and refrain from distributing fiscal largesse," Kotak Securities Limited said in a note.
"However, such increases need to be seen in the context of the need to support dwindling rural income (after two consecutive weak monsoons) as well as keeping a lid on inflationary pressures through MSPs," it added.
The increase in MSP for rice (paddy common) crossed 20 percent in 2008 and 2009 and was 15.7 percent in 2013, according to an analysis by Kotak Securities.
The Central government's foodgrain production target for the crop year starting June is 270.1 million tonnes, 7 percent more than the 252.23 million tonnes projected for 2015-16.
The government's move is also being seen as not impacting the annual food subsidy expenditure for the current fiscal. "The government's food subsidy outgo will remain broadly unchanged," Kotak Securities said.