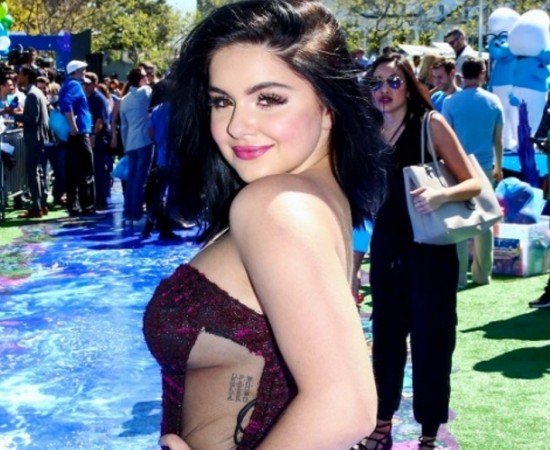 Oh damn! That did not go as planned. Modern Family hot diva Ariel Winter has landed herself in some trouble when she posted a bikini-clad picture of her on Instagram to mark the occasion of Memorial Day.
The 20-year-old actress posted a sensual picture of her giving a sneak peek into her bikini line wishing followers on the occasion of Memorial Day but things escalated quickly and the TV star found herself in a mess.
Also Read: Ariel Winter shows off her 'cheeks' in a blue thong
Winter is known to tease fans with her hot sensual photographs. She has been posting curvalicious pictures of herself showing off her booty and bosoms.
It was like any other day for her when she posted three pictures in a sky blue bikini with her hair tied into a braid. Almost flashing her private parts as she pulled down the side of her bikini bottom, she captioned the picture: "Happy #MemorialDay."
Soon, fans thronged her comments section with appraisals about her sensual body. But things went downhill when they also began criticising her choice of picture to greet fans on the occasion.
Many had started calling out against the actress saying, "Memorial Day is to honour the fallen who fought and are still fighting for freedom. This makes it seem that it's a honour/look at "me" type of day/pictures Ms. Winter's." Few even questioned if she knew what Memorial Day is about.
One user even went on to tell that it was a tasteless attempt by the youngster. "What has you in a bikini got to do with remembering those who forgot?"
Headed for damage control, Ariel quickly posted a picture thanking the men and women who sacrificed their lives for the country.
Posting the picture she wrote: "Could not be more grateful to all of the men and women who risk their lives to protect ours and our freedom. We are all forever indebted to your service. Thank you."
Despite the criticism, Ariel refused to take down the pictures she earlier posted and did not address to negative comments in the Instagram thread.