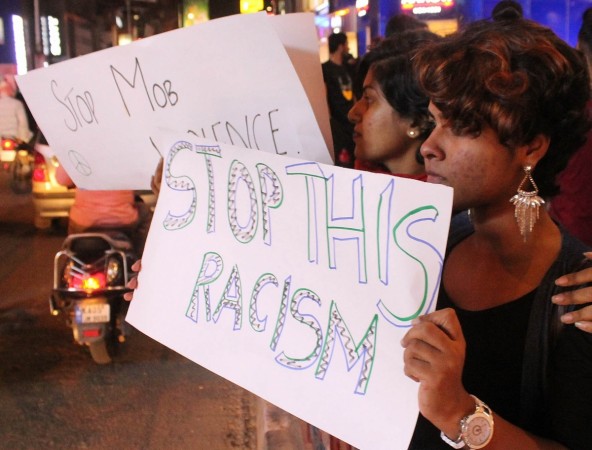 Four more people were arrested on Friday in connection with the alleged mob attack on a Tanzanian woman in Bangalore, bringing the total number of arrests so far to nine.
A senior police official from the Soladevanahalli police station, under whose jurisdiction the crime took place, told International Business Times, India edition, that following the incident, policemen have been deployed around colleges in the area that have several African students.
The 21-year-old Tanzanian woman, who is studying in Bangalore, was reportedly attacked by a large mob on Sunday night after she arrived in a car in Hesaraghatta where a Sudanese man had run over and killed a woman a little earlier.
The mob allegedly stripped the woman, while some reports suggest she was also paraded naked, a claim Karnataka Home Minister G Parameshwara dismissed on Thursday.
"The woman said her top was torn off but she did not mention in the complaint she was paraded naked," the police official told IBTimes India.
While the complaint was first filed by the Tanzanian woman's friend on Sunday, the first arrests were made on Thursday.
"No names of the accused were mentioned in the complaint, and we had to do our own investigation to make arrests," the official said. "More arrests will be made."
Reports on Friday said three police officials — an inspector and two constables — have been suspended for "not doing their duty." The police official said he could not comment on the suspensions.
A delegation comprising Tanzanian High Commissioner John Kijazi reached Bangalore on Friday to meet with Parameshwara and police officials, ANI news agency reported.
The Tanzanian ambassador had on Thursday called the mob attack "racist."