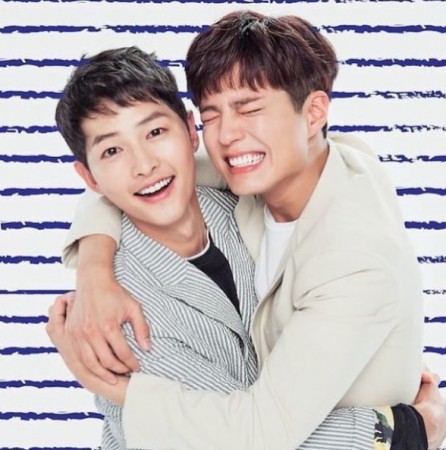 Descendants Of The Sun star Song Joong Ki and Love In The Moonlight actor Park Bo Gum are confirmed as the hosts for Mnet Asian Music Awards (MAMA) 2017.
While Song Joong Ki will be hosting the annual event in Hong Kong, Park Bo Gum will be hosting the star-studded award night in Japan.
Meanwhile, Japanese Idol group AKB48 will be collaborating with South Korean girl group I.O.I for a special performance at MAMA in Japan.
Also read Mnet Asian Music Awards 2017 predictions: EXO to win big at MAMA
"In Japan, AKB48 and I.O.I's special collaboration stage is prepared. AKB48 has been promoting for over 10 years in Japan as a national idol group. Their members are selected by votes, which is something they have in common with Produce 101, which is why this collaboration stage was prepared," Mnet director Kim Ki Woong explained.
Kim Ki Woong also teased some new collaboration with the Korean artists at MAMA 2017 while interacting with the reporters during a press conference.
"Plenty of collaboration stages between Korean artists are also prepared, so please anticipate them," Soompi quoted the Mnet director as saying.
Kim Ki Woong even said that the organisers of MAMA are aiming at making the annual award show as the Korean counterpart of Grammy Awards.
"Although we have a long way to go, [becoming the Korean Grammys] is our endgoal. It has been almost 10 years since we began 'MAMA.' In that time, Korean artists have received recognition abroad, and they are heading towards becoming mainstream music. We don't know what will happen in the next few years. We want to acknowledge cultural differences and respect them. If we continue to work together with Asian artists, I think we will end up being the Grammys," Kim Ki Woong said.
The Mnet director did not forget to address the illegal voting issue that MAMA faced this year.
"This year, we used two steps to confirm voters' identities: the first stage was through social media accounts, and the second stage was through registration. There were instances of people attempting to bypass the system electronically," he said.