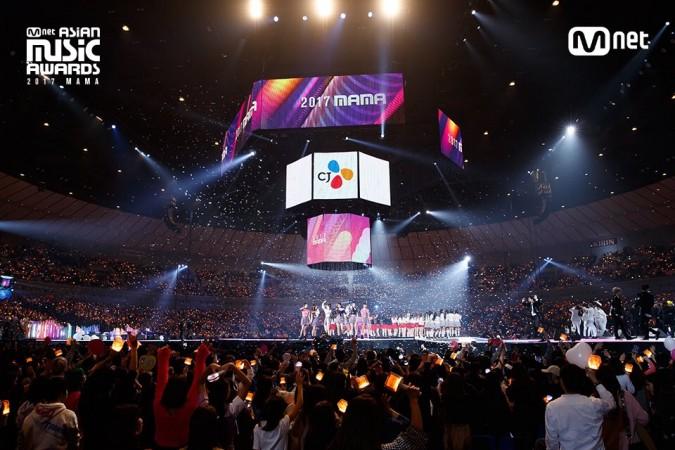 It's the big day for Mnet Asian Music Awards (MAMA) 2017. The long-awaited performances of popular K-Pop bands, such as EXO, BTS and Red Velvet, will be streamed live from Asia-World Expo Arena in Hong Kong tonight.
Boy bands, Wanna One and Seventeen, are also coming back to set the stage on fire while Descendants Of The Sun star Song Joong Ki hosts the annual star-studded award show on Friday, December 1.
The biggest K-Pop music award show will also feature special collaborations by Ailee, Soyou, NCT 127, Sunmi and Dynamic Duo. They will be collaborating with EXO member Chanyeol, Shinee singer Taemin and rapper Jooheon from Monsta X.
Also read Mnet Asian Music Awards 2017: Find out why MAMA received criticisms from K-Pop fans after Vietnam premiere
Check out the live streaming and broadcast channel details for MAMA 2017 finale in Hong Kong below:
http://www.mwave.me/en/mama/onair-c#.WiEwrV0puoc.link
On December 1, the last day of annual award show will kick-start from Hong Kong at 5 pm China time (2.30 pm IST) with red carpet arrivals, which will be followed by the main award ceremony will at 7 pm China time (4.30 pm IST).
The star-studded event will be broadcast live on Mwave. K-Pop fans can also stream the award show online from the official website for Mnet: mwave.me/mama.
Other platforms to watch award night in Hong Kong live online are as below:
Hong Kong - ViuTV (http://www.viu.tv)
Macau - ViuTV (http://www.viu.tv)
Indonesia - JOOX
Malaysia - JOOX
Thailand - JOOX
Japan - Mnet Smart (http://smart.mnet.com) and VideoPass (https://www.videopass.jp)
Korea - Mnet.com (http://www.mnet.com)
Cambodia - iflix (https://www.iflix.com)
Laos - iflix (https://www.iflix.com)
Myanmar - iflix (https://www.iflix.com)
Philippines - iflix (https://www.iflix.com)
K-Pop fans from India, China, the US and other parts of the world can also watch MAMA 2017 finale in Hong Kong live online here.
Performances to check out for the annual award show:
Wanna One with a full story performance from the prequel 1-1=0 (NOTHING WITHOUT YOU)" to "1X1=1 (TO BE ONE).
Special collaboration between Sunmi and Shinee member Taemin.
EXO member Chanyeol to collaborate with Ailee and Soyou.
Red Velvet and NCT 127 to share the stage for a special collaboration.
Dynamic Duo to join hands with Monsta X rapper Jooheon.
Here's the complete celebrity line up for MAMA 2017 finale in Hong Kong:
Former beauty queen Honey Lee, g.o.d member Yoon Kye Sang will be joined by popular K-Pop bands EXO, BTS, GOT7, Red Velvet, Super Junior. The star-studded award night will also be attended by Lee Young Ae, Song Ji Hyo, Lee Je Hoon, Lee Beom Soo, Kim Yoo Jung, Kwon Yool, Kim Jae Wook, Nam Joo Hyuk, Ahn Jae Hyun, Kim Min Suk, Kim Sae Ron, Park Joo Mi, Lee Chung Ah, Jo Bo Ah, Ji Soo, and Cha Ye Ryun.