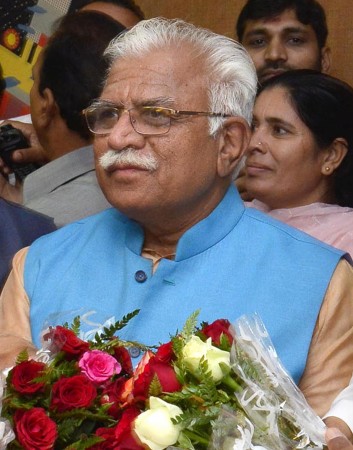 Manohar Lal Khattar took oath as Haryana Chief Minister, the first non-Jat chief of the state in 18 years.
Khattar represents BJP, which has formed government in the state for the first time in its political history.
Other cabinet ministers who took oath on Sunday include Anil Viz, Kavita Jain, OP Dhankar, Ram Vilas sharma, Om Prakash Dhankar and Captain Abhimanyu.
Khattar, the 10th Chief Minister of Haryana, took oath in the presence of Governor Kaptan Singh Solanki, Prime Minister Narendra Modi, BJP president Amit Shah, Union Home Minister Rajnath Singh and External Affairs Minister Sushma Swaraj on Sunday, according to a The Times of India report.
Apart from Shiromani Akali Dal chief and Punjab Chief Minister Parkash Singh Badal, the chief ministers of Rajasthan, Madhya Pradesh and Gujarat also attended the oath-taking ceremony.
BJP swept away the long-time ruling party Indian National Lok Dal in the 13th assembly election in October this year, and became the majority party by winning 47 out of the 90 seats. The state, which did not have ruler from Jat community for the past 18 years, has got one this time.
From RSS Pracharak to Chief Minister
The 60-year-old leader was elected as the Haryana Chief Minister on 21 October by BJP's new legislature in the state, at a meeting in Chandigarh. He became the first BJP legislator from Karnal assembly constituency in 2014.
After joining Rashtriya Swayamsewak Sangh (RSS) in 1977, Khattar remained (RSS) Pracharak for 14 years before moving in with BJP in 1994. After moving in to the Bharatiya Janata Party, he worked as Organisational General Secretary of BJP in Haryana until he was elected as head of the state government.
Khattar has also worked closely with Modi since 1996. In later years, Modi gave him the responsibility to manage elections in Kutch, following the Bhuj earthquake in 2001. Also during 2014 Lok Sabha elections in May, Khattar was given charge of 50 wards in Varanasi constituency, where Modi was contesting the Lok Sabha polls.