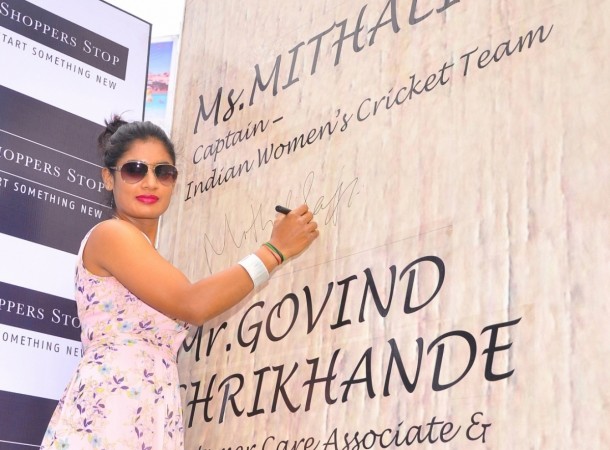 Mithali Raj has been the new victim of online trolls, thanks to the perverse mentality of certain Indian users on Twitter lately. From her visible sweaty armpits to her cleavage being seen in a black spaghetti top, the Indian cricket legend has been subject to very needless abuse, over the past few days.
The veteran women's team cricketer, who guided her women army to a runners-up position in the Cricket World Cup this year, in the United Kingdom, has now taken to Twitter to post an elegant photo of hers in a sari.
The 34-year-old yet-unmarried star, based out of Jodhpur, has been taking to social media lately to post gorgeous photos of hers.
From Saina Nehwal to Geeta Phogat and from Eugenie Bouchard to Sarah Taylor, the star athletes do use social media to post selfies and gorgeous pics of themselves.
So there's nothing "attention-grabbing" or a "cheap publicity" motive in them, as certain media and online trolls term them.
So how has Twitter users reacted to the recent beautiful update from Mithali?
Let's take a look:
Now this individual here surely didn't speak what he just!
Nari tabi achi lagti h Jab ao Sadi pahan Kar rahe

— Dhaneshwar Singh (@Dhaneshwarrajp2) September 11, 2017
Translation: An Indian woman ONLY looks good when she's wearing a sari.
Really? When was the last time that an Indian woman wearing western clothes gave you a stunning inferiority complex?
Indian women do look splendid in a sari, so these man gets his message across well!
Indian tradition and indian woman beauty is not completed without a saree.it make beauty to more beautyful.u look fab in saree matali.??

— Mayank Sharma (@MayankS10067287) September 11, 2017
Exactly our sentiments, mate!
??you look as elegant as ever
Those who judge people with cloths need therapy not attention, you are a Gem of Indian sports, will always be

— Amit Aashoo (@amitaashoo) September 11, 2017
Oh..and this individual here is writing the script of the Lagaan sequel with only women cricketers involved!
have u ever tried cricket in saree? isn't it a fun ? try someday "desi cricket in a saree". Well looking nice in this saree. ??

— Vj_gupta (@Vj_gupta051) September 11, 2017
Flying with love, is he?
I would say ur eyes are more beautiful than ur shots..
????

— GOKUL GOPAL (@gokulgopal93) September 11, 2017