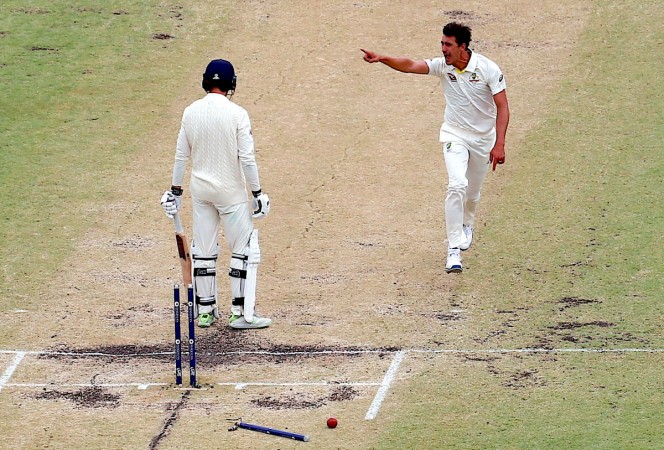 The social media is abuzz with cricket fans and experts referring to Mitchell Starc's delivery, which dismissed James Vince on Sunday at WACA, as the ball of the 21st century. Former England cricketer Graeme Swann feels the ridiculous ball would have even dismissed legends like Sachin Tendulkar and Sir Donald Bradman 1,000 out of 1,000 times.
Starc is one of the best bowlers in modern-day cricket, and the left-arm pacer bowled his best delivery in an international match.
Vince's wicket was castled by a ball, which pitched almost on middle and leg stump, held its line, and even swung away from the right-hander, beating him all ends up to send the batsman back to the pavilion.
Now, the delivery has brought memories of Shane Warne's delivery to Mike Gatting in 1993, where the ball spun a mile and kissed the top of off-stump. If that delivery was the ball of the 20th century, Starc's delivery can be hailed as the ball of the 21st century, feels some experts.
Despite the crack playing some role in helping Starc, the dismissal will be etched in the memories of cricket fans. Swann feels it would get even get masters of the game like Tendulkar and Bradman out.
"People who are saying it's an exaggeration do not know the game of cricket. That is the ball live I have ever seen in Test cricket. Left arm around at 90 m/ph, seaming more than a guy can spin the ball, that is the best ball I've seen live in Test cricket. People say it's not because it hit the crack, Shane Warne's ball of the century landed in a foot hole," Swann told ESPN Cricinfo.
"Get a perspective, that ball is getting Sachin Tendulkar out 1,000 times out of 1,000, Don Bradman 1,000 out of 1,000, Steve Smith 1,000 out of 1,000. It is unplayable."