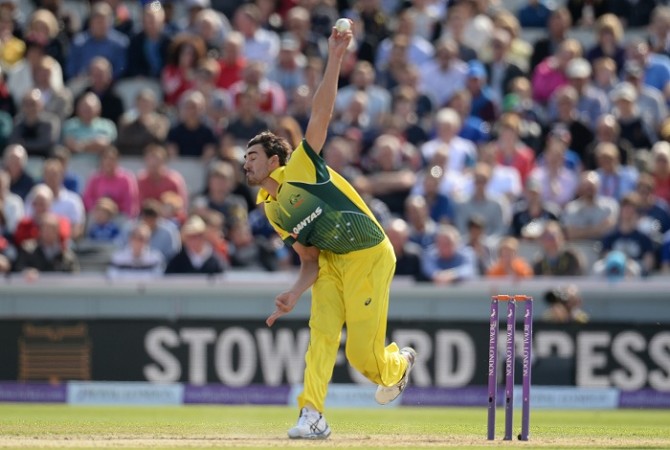 Australia speedster Mitchell Starc is all set for his comeback to action, after stating he is fit and raring to go. The left-arm pacer has been included in the Australia squad for the tour of the West Indies. Australia will battle it out with hosts West Indies and South Africa in a triangular series starting June 3.
Starc was sidelined for more than six months, after he suffered an ankle injury. He also had to go under the knife, leading to him missing the ICC World T20 2016 and the ongoing season of the IPL.
"It's been a long time coming. The foot has been great, there's no pain in the ankle or the foot. I've been really happy with it. I've had a good three or four months in gym to get a bit of size back on, and I'm feeling really good; fit, strong and ready to play some cricket," Starc was quoted as saying by the official website of Cricket Australia.
Starc is gearing up for the tri-series by playing at the Bupa National Cricket Centre in Brisbane, and he is yet to bowl at the kind of pace he usually bowls at.
"It's been coming out pretty well up in Brisbane the last couple of weeks so I'm excited to see what comes about. It feels like it's in a good place. I'm not sure if I'll be back up to top speed straight away, it might take a couple of games as it normally does for fast bowlers coming back, but I'm excited to see how it comes out on the gun," Starc added.
Australia have a busy schedule ahead. After this tri-series, they will fly to Sri Lanka for a tour, followed by a home Test series against South Africa and Pakistan. There are a number of limited-overs games against Pakistan, Sri Lanka and New Zealand as well later this year. Starc will be hoping that he gets through all these series without any further injuries.
"I just want to get through this first tour and play some cricket again after six months out. It's seven games if we make the final and whether I play all seven or they talk to me about how it's going, that sort of thing, we've got a goods squad of cricketers and some good fast bowlers," Starc said.
Australia will start their tournament with a match against the West Indies in the second ODI of the tri-series at the Providence Stadium in Guyana on June 5.